Japan and State of Victoria have explored the options to further consolidate the mutually beneficial economic partnership. The issue was discussed in detail during Japanese...
ASEAN Foreign Ministers have emphasized the importance of non-militarisation of South China Sea and pursue peaceful resolution of disputes. The issue was discussed in length...
Former NSW premier Kristina Keneally will be Labor's star candidate in the Bennelong byelection. The shock announcement means Labor will have a strong chance of...
Amid alleged Chinese interference in Australian politics, Australia's ambassador to the US Joe Hockey Thursday raised the mercury by saying Australia had to protect...
Australia insists it is close to securing a free trade agreement with Indonesia, despite missing a self-imposed, end-of-year deadline. "The number one priority right now...
To give a new boost to tourism through attracting new more young Chinese travelers, Australia launched a new campaign, 'Too Australian for Words'. The new...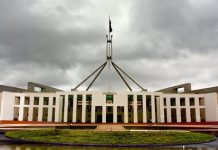 Yasir Rehman Amid the unending citizenship fiasco, Prime Minister Turnbull and his coalition government facing lowest acceptance revealed in the latest Newspoll, which would see...