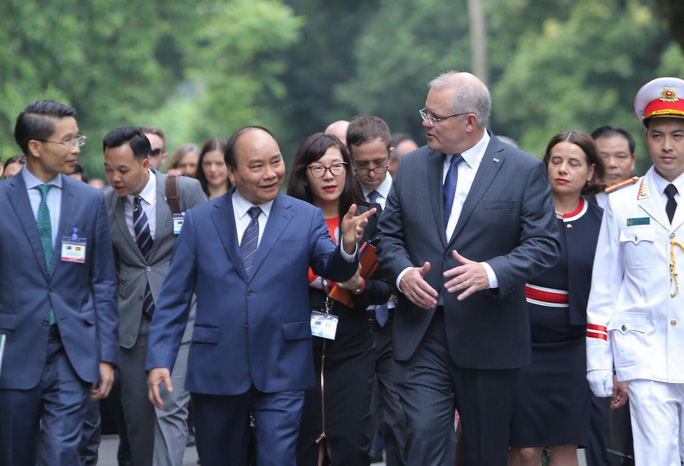 Australia and Vietnam have again emphasized the importance of settling disputes and freedom of navigation and aviation via peaceful means on the basis of international law.
The issues were discussed in length in a telephonic conversation between Prime Minister Scott Morrison and his Vietnamese counterpart Prime Minister Nguyen Xuan Phuc on Thursday said a statement issued by the government of Vietnam.
In a veiled reference to South China Sea dispute, the statement said that both Prime Ministers underlined the importance of promoting cooperation and maintaining peace, stability, security and safety and freedom of navigation and aviation as well as ensuring legitimate rights and interests provided by the provisions of the 1982 UN Convention on the Law of the Sea (UNCLOS).
This is the second occasion since last April when two Prime Ministers raised the contentious South China Sea issue.
"Leaders also emphasized the importance of settling disputes via peaceful means on the basis of international law, including the UNCLOS 1982, fully and effectively implementing the Declaration on the Conduct of Parties in the East Sea (DOC) and working towards conclusion of a substantial and effective Code of Conduct in the East Sea that is in line with international law and the UNCLOS 1982, it read.
Mr. Morrison expressed his conviction that both countries will upgrade the bilateral ties to strategic partnership level in 2023 on the 50th founding anniversary of diplomatic ties.
On the occasion PM Phuc suggested both sides would soon complete talks on, sign the Viet Nam-Australia Enhance Economic Engagement Strategy (EES), and fully tap opportunities from the Comprehensive, Progressive Trans-Pacific Partnership (CPTPP), and the Regional Comprehensive Economic Partnership in order to further foster bilateral trade.
He requested the Australian side to continue technical assistance for and further open up market for Vietnamese farm produce such as shrimp, star apple, longan among others while encouraging its businesses to pour investments in such fields like telecommunication, infrastructure, high-tech agriculture, finance-banking, energy, manufacturing, education and tourism.
Phuc also called for Australia's increased official assistance development to infrastructure, rural areas and agriculture, poverty reduction, climate change adaptation and high-quality human resource development.
Both sides also agreed to work together to broaden and deepen the ASEAN-Australia strategic partnership.