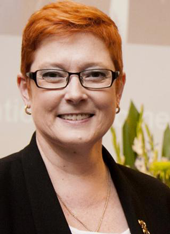 Australia Wednesday condemn the violence and called for a peaceful and speedy transition to democracy in Venezuela.
Hundreds of Venezuelans rallied on Tuesday after opposition leader Juan Guaido called for a military uprising in his strongest move to take down President Nicolas Maduro since declaring himself interim president earlier this year.
Foreign Minister Marise Payne in her tweet condemn reports of violence and urge restraint.
"We support Juan Guaidó as interim President in accordance with Venezuela's constitution and until elections are held", she said.