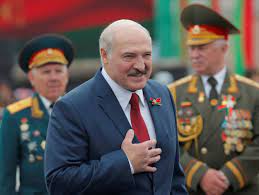 Common Wealth of Australia while reiterating their call for Russian withdrawal from Ukraine has placed sanctions on Belarusian President Alexander Lukashenko and members of his family and another 22 Russian media persons.
"These latest steps, one month into Russia's invasion of Ukraine, continue our focussed efforts to ensure that Russia and those who support its illegal, unprovoked invasion of its democratic neighbour, pay a high cost", foreign minister Marise Payne said in a statement on March 25.
The 22 additional Russian media persons belong to organisations including Russia Today, the Strategic Culture Foundation, InfoRos and NewsFront.
Australia has now sanctioned a total of 32 pro-Kremlin media persons.
"This step reflects the strategic importance of disinformation in Russia's attempts to legitimise Putin's unprovoked and illegal invasion of Ukraine", statement read.
Ms Payne said that Government of Belarus, under President Lukashenko, continues to provide strategic support to Russia and its military forces in their assault on the sovereignty and territorial integrity of Ukraine.
"We are also placing sanctions on his son Viktor Lukashenko, who previously held senior national security roles in the Belarussian Government, and his wife Galina Lukashenko, the First Lady of Belarus", she added.
The sanctions announced on Friday are in addition to sanctions previously imposed on 13 Belarusian individuals and entities, including Belarusian Minister of Defence Viktor Khrenin, who have played a role of significant strategic importance to Russia by allowing Russia to launch attacks from Belarus.
Foreign Minister reiterated Australian Government unwavering support for Ukraine's sovereignty and territorial integrity, and for the people of Ukraine.
"Australia, in close coordination with our partners, will continue to impose further sanctions to inflict significant costs on those in Russia and Belarus who bear responsibility or hold levers of power", she said.