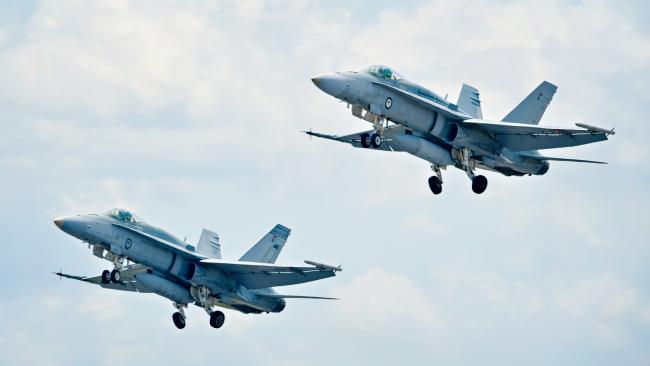 Australia needs a new defence strategy to deter, and if necessary, defend itself against an increasingly powerful, aggressive China, two of the nation's most experienced strategists have warned.
Former senior Defence officials Paul Dibb and Richard ¬Brabin-Smith say the nation faces an increased prospect of a threat from a major power for the first time since World War II.
Professors Dibb and Brabin-Smith, from the Australian National University, say their main concern is the rapid growth of China's economic and political influence in the region and its ambitious program of military modernisation and expansion.
"China is developing military capabilities that could come to threaten us directly," they say.
In a paper to be published in Canberra tonight by the Australian Strategic Policy Institute, the former Defence officials say Australia's strategic outlook is deteriorating.
"China's aggressive policies and its use of coercion are grounds for concern that it seeks political domination of countries in our region, including Southeast Asia," the authors say.
"There's a real risk that Southeast Asia is becoming a Chinese sphere of influence."
They add that, in the South China Sea, Beijing's construction of military facilities — including airstrips for fighter aircraft and longer-range strategic bombers — has effectively brought China's military presence more than 1200km closer to Australia's northern approaches.
Professors Dibb and Brabin-Smith are former deputy secretaries in the Defence Department. Professor Dibb was the main author of the 1987 defence white paper. Their new paper, "Australia's Management of Strategic Risk in the new era", will be launched by former chief of the Defence Force Angus Houston.
Australia's defence policy, as set out in successive white papers, has been based on an assumption that no nation in the region has the capability to mount an invasion.
Circumstances have changed, the authors say, and that is soon likely to no longer be the case.
The authors stress that it's important not to designate China as inevitably hostile to Australia, and to recognise that there would be constraints on the expansion of its military influence. "Beyond the short to medium term, there would be intrinsic difficulties in operating in waters ¬potentially dominated by Indian anti-access capabilities, and there's potential, too, for Indonesia to develop significant sea-¬denial capabilities," they say.