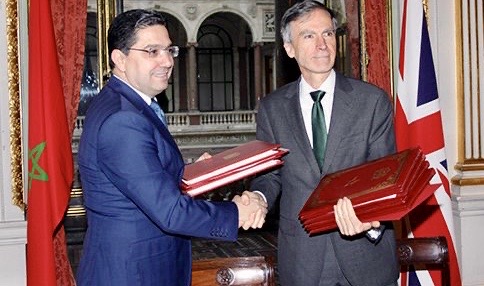 Morocco and United Kingdom have signed the Morocco-UK Association Agreement which emphasises the excellent bilateral relations linking the two countries in a framework of respect and mutual trust.
The agreement was signed during Moroccan Minister of Foreign Affairs Nasser Bourita visit to London on 26th October 2019 where he met with Dr Andrew Murrison, United Kingdom's Minister of State for the Middle East and North Africa.
Mr. Bourita highlighted that time has come to seize the excellent momentum of Cooperation between the Kingdom of Morocco and the United Kingdom on the political, economic and military levels as well as the long-standing friendship between the Royal families of both countries to upgrade this partnership.
This Agreement which replicates the current Association Agreement between Morocco and the European Union, signed in 1996, reflects the willingness of Rabat and London to transform their partnership into a strategic level of cooperation in the upcoming phase.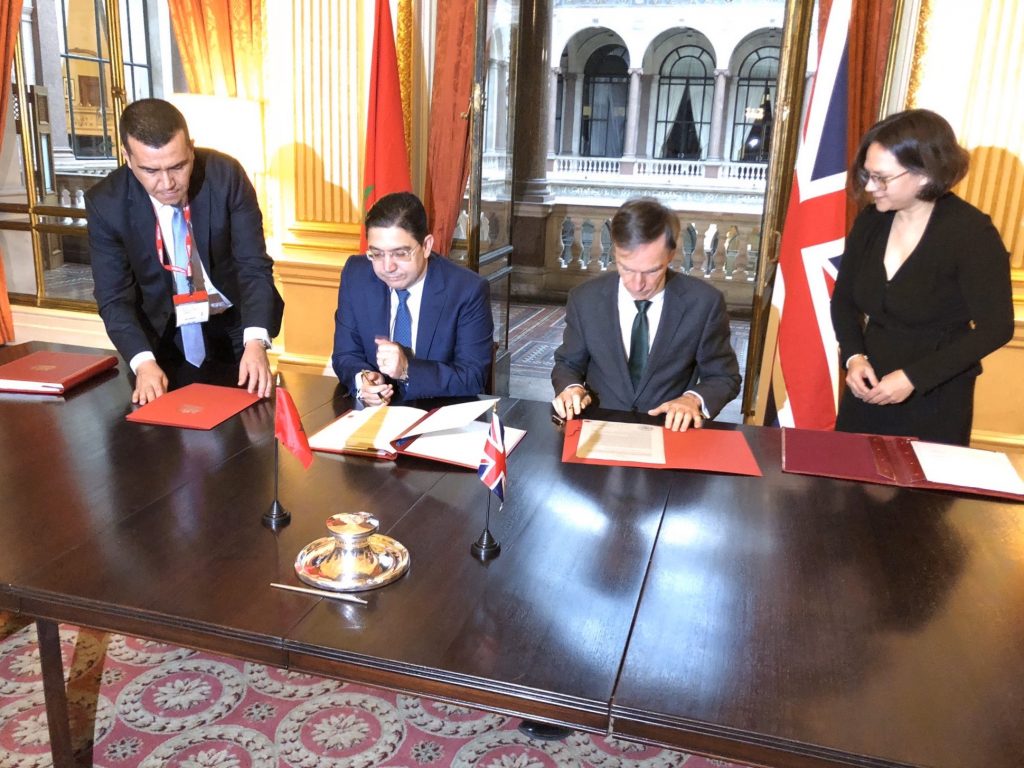 The signed document also encompasses the trade related aspects between the two countries (worth 2.5 billion pounds in 2018) as well as the political and cooperation provisions with the aim of ensuring continuity following the UK's withdrawal from the European Union.
Besides, this Association Agreement contains multiple mechanisms, including an annual ministerial meeting, for the UK and Morocco to enhance this Agreement, as well as requirements to consider further liberalisation and the establishment of various Committees to deal notably with Agriculture, Customs Cooperation, Industry, Trade and Services.
Welcoming the agreement, Minister of State Dr Andrew Murrison indicates that the UK and Morocco have a close friendship and an important diplomatic history that is over 800 years old.
The signing of this Agreement builds on the UK's deep cultural, political and economic ties with the region and demonstrates our commitment to increase trade and constructive dialogue with Morocco.
He added that the agreement will ensure British businesses and consumers benefit from continued trade with Morocco after we leave the EU. It provides, among other trade benefits, tariff-free trade of industrial products together with liberalisation of trade in agricultural, agri-food and fisheries products. »
Minister of State for Trade Policy, Conor Burns said that the agreement signed with Morocco will help provide certainty for businesses, ensuring they can continue to trade on the same terms with our Moroccan partners.
Conor Burns who recently visited Morocco said that he witnessed first-hand the many opportunities available to UK and Moroccan firms to advance our trade together.
"I look forward to maintaining and further strengthening our current trade, political and security relationship with Morocco as we continue to work closely together in the future", he added.
In addition to growing trade, today's agreement seeks to deepen UK-Moroccan cooperation across foreign policy, economic, social and cultural ties. The Agreement provides a framework for policy dialogue and to strengthen cooperation on important issues like trade, educational and environmental matters.
The Agreement sends a strong signal that Britain is committed to a close bilateral relationship with Morocco and will continue to play a positive role in the region.