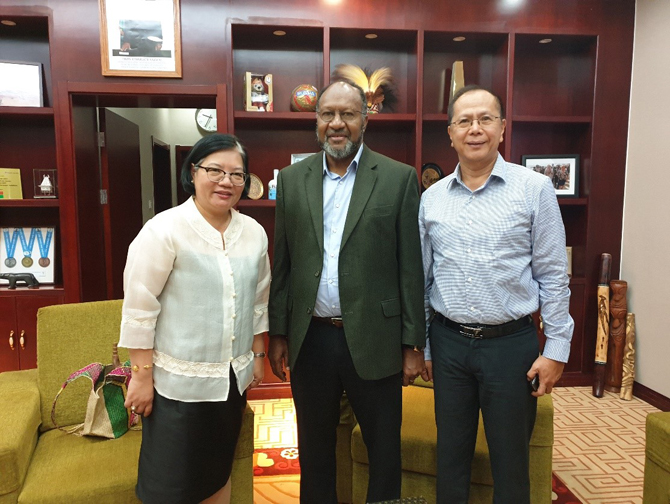 Philippines and Vanuatu have agreed to bolster bilateral relations especially in fields of education, climate change and agriculture.
The issues were discussed on 08 May 2019 when Philippine Ambassador Ma. Hellen B. De La Vega called on Vanuatu Prime Minister Charlot Salwai Tabimasmas, said a statement by embassy of Philippines in Canberra.
Both sides discussed ways to strengthen Philippines-Vanuatu Relations.
Ambassador De La Vega officially assumed her role as Non-Resident Ambassador to Vanuatu following her presentation of credentials on 07 May 2019.
Ambassador De La Vega extended the warm greetings of Philippine President Rodrigo Roa Duterte and his best wishes for the prosperity of the Republic of Vanuatu.
She said that she has been tasked to foster and enhance the long-standing friendship between the two countries which has prospered since the establishment of diplomatic relations in 1986.
Prime Minister Charlot Salwai Tabimasmas said he welcomed initiatives to further enhance engagement in education noting that a number of Ni-Vanuatu students complete their tertiary studies in the Philippines.
He also said the two countries can pursue further technical cooperation in areas such as agriculture. He added there is a growing Filipino community in Vanuatu who have integrated well in the country.
Both acknowledged the importance of working together with the international community in addressing climate change especially given that both the Philippines and Vanuatu are disaster-prone countries that are heavily affected by the impact of climate change.
Ambassador De La Vega said she looks forward to working closely with Vanuatu towards the celebration of the 35th Anniversary of Diplomatic Relations between the Philippines and Vanuatu in 2021.