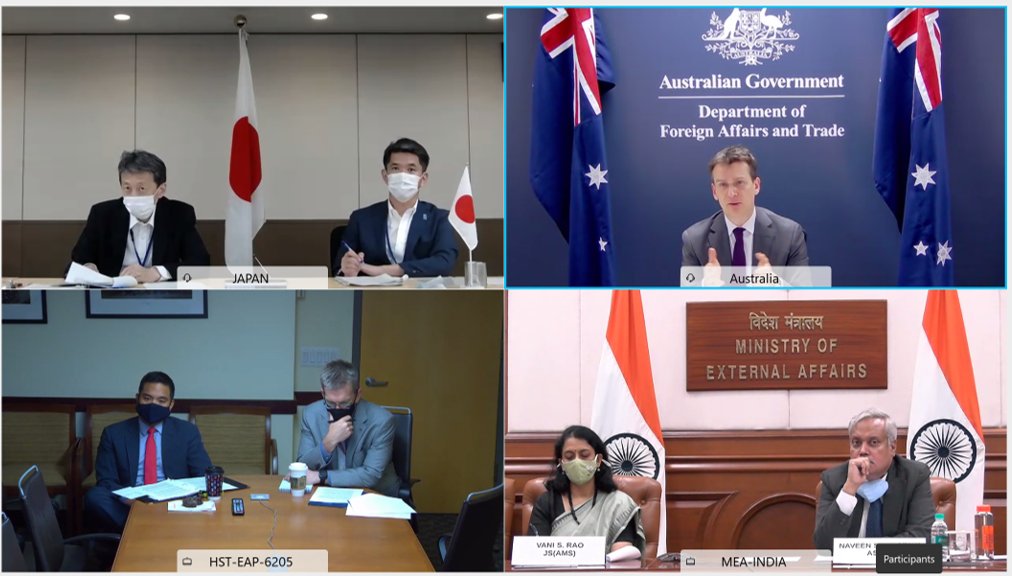 The Quad group has demanded an immediate cessation of violence in Myanmar and reaffirmed their support for an open, inclusive, and resilient Indo-Pacific.
The issues were discussed at a virtual meeting of the senior officials from Australia's Department of Foreign Affairs and Trade, India's Ministry of External Affairs, Japan's Ministry of Foreign Affairs and the US Department of State on August 12.
"Officials discussed expanding access to safe and effective vaccines across the Indo-Pacific under the flagship Quad Vaccine Partnership", DFAT said in a statement on Friday.
Quad officials also shared assessments on recent strategic developments and reaffirmed their commitment to working with regional partners to support an open, inclusive, and resilient Indo-Pacific.
Officials from four nations underscored grave concerns about the crisis in Myanmar, including the rapidly deteriorating COVID-19 situation, and its implications for regional stability. They reiterated calls for an immediate cessation of violence and the release of all those arbitrarily detained.
"Officials reaffirmed their support for ASEAN-led efforts to chart a course out of the crisis. Quad partners continue to urge the Myanmar military to engage with ASEAN to implement the 'Five Point Consensus' fully and swiftly", statement read.
Officials noted progress in implementing Quad leaders' commitments to cooperate on climate change and critical and emerging technology.
They reaffirmed their resolve to deepen cooperation on priorities agreed by ministers, including maritime security, cyber, infrastructure, counter-terrorism, humanitarian assistance and disaster relief, and countering disinformation.
Quad partners are steadfast supporters of ASEAN centrality. Officials recognised the critical convening power of the ASEAN-led architecture and reiterated their support for the principles of the ASEAN Outlook on the Indo-Pacific.
"The officials also exchanged views on regional issues such as North Korea, the East and South China Seas and Myanmar and welcomed the fact that a "Free and Open Indo-Pacific" is a vision for the peace and prosperity of the region", said a statement issued by the Foreign Ministry of Japan.
The officials shared the view on continuing regular consultations and on coordinating to hold an in-person summit by the end of this year, in addition to holding a Foreign Minister's meeting later his year.