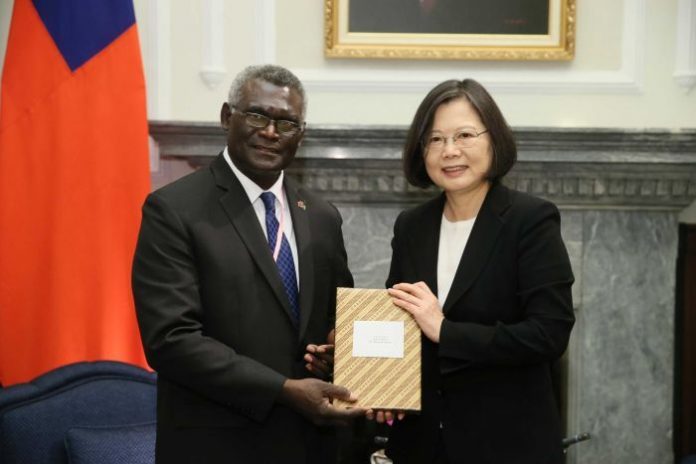 Government of Pacific nation Solomon Islands has cut off the nation's diplomatic ties with Taiwan hours after Taiwan's deputy Foreign Affairs minister Dr Sze-chien Hsu landed in Honiara in a last-ditch effort to save the ties.
This came after Cabinet endorsed a Caucus resolution late on Monday to severe the 36-year-old relationship. There were 27 votes to shift ties and six abstentions, creating a clear majority to endorse the government decision.
Taiwan deputy foreign minister arrived in Honiara on Monday
Regional heavy weight Australia is yet to react on the decision of Solomon Islands government as Australia is pouring millions of dollars to up-grade Solomons infrastructure.
After Caucus voted in the resolution to switch ties in the afternoon, cabinet wasted no time to endorse it, Solomon Star reported on Tuesday.
Solomon Islands is the sixth country to cut off the diplomatic ties since Tsai Ing-wen became president of Taiwan in 2016.
Taiwan has reacted to the decision sharply by condemning it, adding "it's extremely regrettable".
Taipei declared the termination of its diplomatic relations with Solomon Islands with immediate effect, the end of all bilateral cooperative projects, as well as the recall of the staff of its Embassy, technical mission, and medical mission stationed in Solomon Islands.
"The Taiwan government also demands that Solomon Islands immediately recall its government personnel from Taiwan," a statement Taiwan's Foreign Affairs ministry issued, said.
It's also expected that 125 Solomon Islanders currently studying in Taiwan under fully funded Taiwanese scholarships will be sent back home, according to Taiwanese officials.
"Taiwan believes that the majority of the Solomon Islanders will find the decision unacceptable since it completely lacks credibility", statement read.
Taiwan has accused China of "dollar diplomacy" and trying to influence the island's forthcoming presidential and legislative elections.
Speaking to reporters in Taipei, President Tsai said Taiwan would not bow to Chinese pressure.
"Over the past few years, China has continually used financial and political pressure to suppress Taiwan's international space," Tsai said, calling the Chinese move "a brazen challenge and detriment to the international order".
Taiwan's Foreign Affairs ministry accused that the government of China has once again resorted to dollar diplomacy and false promises of large amounts of foreign assistance to buy off a small number of politicians, so as to ensure that the government of Solomon Islands adopted a resolution to terminate relations with Taiwan before China's National Day on October 1.
"Beijing's purpose is to diminish Taiwan's international presence, hurt the Taiwanese people, and gradually suppress and eliminate Taiwan's sovereignty", it added.
China welcomes Solomon government decision
Chinese foreign ministry said in a statement it highly commends the decision to sever diplomatic ties with Taiwan, adding it was part of an irresistible trend.
"We stand ready to work with the Solomon Islands to open new broad prospects for our bilateral relations," spokeswoman Hua Chunying said in a statement.