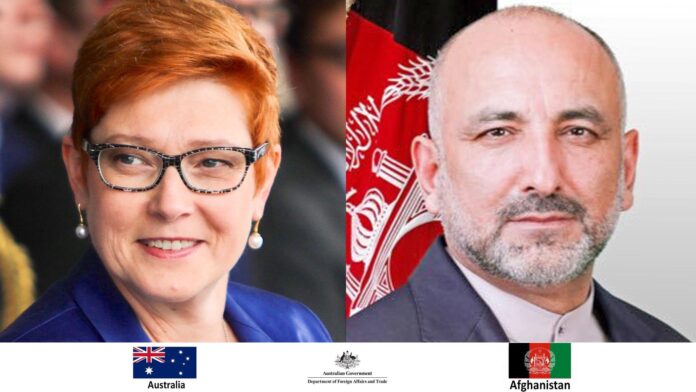 Australia has expressed grave concern on the continuing violence especially after the withdrawal of international forces and called on Taliban to honour their commitments to achieve lasting peace in Afghanistan.
The concerns were candidly conveyed by the Foreign Minister Marise Payne in a telephonic conversation with Afghan counterpart Mohammad Hanif Atmar on Wednesday.
Both sides discussed the current situation in Afghanistan, diplomatic relations, the continuation of humanitarian aid and the prospect of peace in Afghanistan.
Ms. Payne expressed grave concern about the continuing Taliban violence, killing and torture of civilians, especially the torture of women and girls.
"Taliban must abide by their commitments to achieve peace in Afghanistan", she emphasized.
She said that Australia was a strong supporter of a just, lasting and dignified peace in Afghanistan and stressed the importance of peace talks for Afghanistan.
Mr Atmer praised Australia 's two decades of security, development and humanitarian cooperation and the expansion of relations to preserve the values ​​and common interests between the two countries, especially in the current situation in Afghanistan, which is plagued by war, drought, food insecurity and Covid-19 faces, read important.
The two sides agreed to work together on practical steps, including reviving a permanent diplomatic presence in Kabul, prosecuting the war crimes of a number of Australian Special Forces in Afghanistan, renewing the Mutual Partnership Agreement and signing a 2021-2024 Development Assistance Memorandum of Understanding.