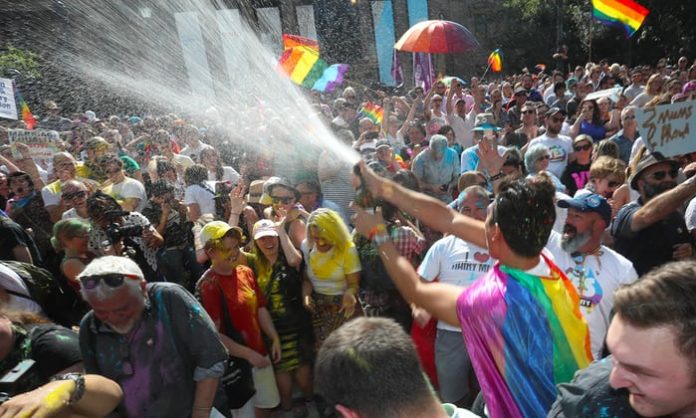 Speakers at the Australian Christian Lobby's national conference while backing a proposal by the federal attorney-general to incorporate the ICCPR into the same-sex marriage legislation Saturday vow to continue their struggle, SBS reported.
Addressing the 700 delegates of Australian Christian Lobby's national conference in Sydney on Saturday, Christian community said they aren't called to win, but rather speak the truth, and that's what they've done. There are reports that reports federal Attorney-General George Brandis is considering incorporating article 18 of the International Covenant on Civil and Political Rights into the same-sex marriage legislation.
"The ICCPR is actually quite a good document. It's one that we at ACL … have quoted in our government submissions for years", ACL managing director Lyle Shelton welcoming the reported move by Attorney General told the gathering.
Article 18 of the covenant – which Australia agreed to in 1980 – states: "Everyone shall have the right to freedom of thought, conscience and religion."
Leading No campaigner and Queensland senator Matt Canavan told Saturday's conference he'd be moving amendments to Dean Smith's same-sex marriage bill to enshrine those protections.
He said if conservatives lost the battle to protect the freedom of religion, speech and parental rights "that does strike at the foundation of our Western society".
"I'm trying to fight to ensure that we're not a persecuted minority," Senator Canavan said.
"There is no other country to flee to in the world if we lose … there's no other planet we can take ourselves to."
New Zealand Family First national director Bob McCoskrie told the ACL conference that since gay marriage was legalised in his country in 2013 Christians have been discriminated against for holding traditional views.
He warned of "new frontiers" in the battle, including an acceptance of polygamy, and urged delegates to stay strong.
"We've had some losses … but we are not called to win, we are called to speak truth."
Mr Shelton said the No campaign lost because the "rainbow coalition" was better organised.
"We didn't lose this in a three-month campaign we lost this because of 20 years of silence when the other side was talking and advocating," he said.
"We haven't been showing up … that has to change."
Mr Shelton urged Christians to join a political party to challenge "bad ideas".