Australia and Pakistan has agreed to strengthen pragmatic relations in defence and security. The issue was discussed during a...
"If I am selected as Director General of World Trade Organization (WTO), I consider that I am well placed to address the challenges being...
The Pacific Community (SPC) the 11th biennial Ministerial Conference would be held on Friday June 21) in Noumea, New Caledonia. Foreign Minister Marise Payne...
Declaring the Australia's current migration intake as balanced, senior cabinet ministers Peter Dutton and Scott Morrison Wednesday rejected former Prime Minister Tony Abbott call...
Afghan ambassador in Australia Wahidullah Waisi has encouraged Afghan women entrepreneurs to come forward and explore new options to bring peace, development and stability...
CANBERRA- Australia and Russia has shown their keen interest in developing political dialogue at foreign office top level, the subsequent increase in mutual trade...
The joint military exercise of gulf nations 'Joint Al-Jazeera Shield Drill 10' which concluded its fourth and final phase in Saudi Arabia has raised...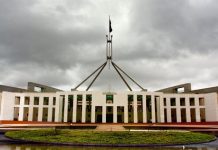 Yasir Rehman Amid the unending citizenship fiasco, Prime Minister Turnbull and his coalition government facing lowest acceptance revealed in the latest Newspoll, which would see...