Ambassador-Designate of the Federal Democratic Republic of Ethiopia to the Commonwealth of Australia, Dr. Muktar Kedir Friday presented a copy of his...
Russia, China, United States and Pakistan, also known as the Troika on Afghanistan has rejected the idea of restoration of an Islamic...
Australian Labor leader Anthony Albanese Monday stressed more closer relations between Australia and Indonesia during a meeting with Indonesian Foreign Minister in Jakarta.
Federal parliament has approved the legislation cracking down on counter-terrorism financing and money laundering. Attorney-General George Brandis told parliament the measures will strengthen protections...
Da Nang: A late-night emergency meeting of regional trade ministers has resolved to try again to revive the Trans-Pacific Partnership, but any final deal...
Prime Minister Scott Morrison has greeted the Australian Muslims at the beginning of the holy month of Ramadan and appreciated the fact...
The joint military exercise of gulf nations 'Joint Al-Jazeera Shield Drill 10' which concluded its fourth and final phase in Saudi Arabia has raised...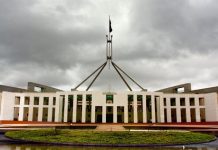 Yasir Rehman Amid the unending citizenship fiasco, Prime Minister Turnbull and his coalition government facing lowest acceptance revealed in the latest Newspoll, which would see...