Eduardo Peña, the Ambassador of Mexico to Australia is seeking Australian support for the Mexican candidacy for the WTO to...
International Community hailed Morocco for hosting much needed dialogue between Libyan factions. The Kingdom of Morocco hosts, since the 6th of September,...
Prime Minister Scott Morrison decision to recognise occupied West Jerusalem as capital of Israel draw ire both at home and abroad with Federal Opposition...
Australian Labor leader Anthony Albanese Monday stressed more closer relations between Australia and Indonesia during a meeting with Indonesian Foreign Minister in Jakarta.
Australia will deliver a new undersea, high-speed telecommunications cable from Australia to Papua New Guinea, the Federal Government has announced. The announcement came as the...
Russian Embassy in Australia has made it clear that Russia pursues an independent foreign policy, and no one should expect to play Russia off,...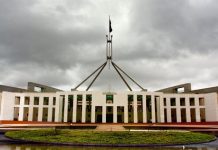 Yasir Rehman Amid the unending citizenship fiasco, Prime Minister Turnbull and his coalition government facing lowest acceptance revealed in the latest Newspoll, which would see...
The joint military exercise of gulf nations 'Joint Al-Jazeera Shield Drill 10' which concluded its fourth and final phase in Saudi Arabia has raised...