In a strong shut- up call, Chinese Embassy in Australia has expressed strong displeasure and firm opposition against the Foreign Minister Marise...
Amid fears of the expansion of the novel COVID-19, the Kingdom of Morocco has dedicated more than 2.7% of GDP (ranks 4th globally) to...
Prime Minister Scott Morrison at the invitation of President Trump has arrived in Maryland, USA on State visit to the United States...
Prime Minister Malcolm Turnbull has arrived in Washington on a three day visit to United States with focus on trade and security. He is...
The cost of transforming Sydney's Central Station into a gateway that includes a five-star hotel, high-rise towers and a new route for the inner...
Prime Minister Scott Morrison has expressed his credence that world can draw strength from the values of generosity, hope and strength at this time...
The joint military exercise of gulf nations 'Joint Al-Jazeera Shield Drill 10' which concluded its fourth and final phase in Saudi Arabia has raised...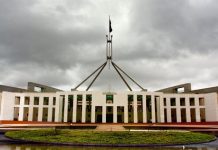 Yasir Rehman Amid the unending citizenship fiasco, Prime Minister Turnbull and his coalition government facing lowest acceptance revealed in the latest Newspoll, which would see...