High Commissioner of Pakistan Babar Amin has said that High Commission is active to create institutional linkages and research collaboration between Pakistani...
Russia, China, United States and Pakistan, also known as the Troika on Afghanistan has rejected the idea of restoration of an Islamic...
The Government of Vanuatu while honouring its special relations with China Thursday rejected the assertion by an Australian media group that that corruption and...
Newly installed Morrison government Monday ruled out snap elections with the latest Newspoll reveals decade worst primary vote for the coalition after the voters...
All set to open the Pacific Exposition 2019 today in Auckland, New Zealand, first of it's kind in the region to promote trade, investment...
Australian Prime Minister and Governor General has extended their best wishes to the Muslim community in Australia on the auspicious day of...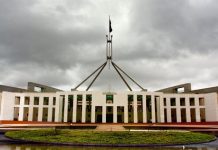 Yasir Rehman Amid the unending citizenship fiasco, Prime Minister Turnbull and his coalition government facing lowest acceptance revealed in the latest Newspoll, which would see...
The joint military exercise of gulf nations 'Joint Al-Jazeera Shield Drill 10' which concluded its fourth and final phase in Saudi Arabia has raised...