Australian parliamentarians have expressed the desire to contribute positively in further strengthening Australia relations with Pakistan. The desire was...
International Community hailed Morocco for hosting much needed dialogue between Libyan factions. The Kingdom of Morocco hosts, since the 6th of September,...
After a series of veiled attacks against growing Chinese build-up in the region, Australia is all set to sign "enhanced partnership plan" with NATO...
SYDNEY-Israeli President Reuven Rivlin Friday arrived in Sydney on a week-long State Visit to Australia, at the invitation of the Governor General...
To give a new boost to tourism through attracting new more young Chinese travelers, Australia launched a new campaign, 'Too Australian for Words'. The new...
Australia and Malaysia building on shared history towards a shared future have elevated their ties to Comprehensive Strategic Partnership (CSP) which will...
The joint military exercise of gulf nations 'Joint Al-Jazeera Shield Drill 10' which concluded its fourth and final phase in Saudi Arabia has raised...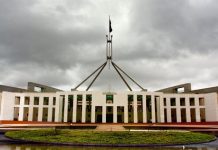 Yasir Rehman Amid the unending citizenship fiasco, Prime Minister Turnbull and his coalition government facing lowest acceptance revealed in the latest Newspoll, which would see...