To mark the 105th anniversary of the establishment of the Azerbaijan Democratic Republic and the formation of the Azerbaijani Armed Forces in...
Heydar Aliyev, a powerful and influential political leader, played a pivotal role in shaping Azerbaijan's energy landscape and its global impact. His...
The Victorian Labor government wants to lock up teens as young as 14 for 36 hours if they're terrorism suspects, SBS TV reported Monday. Teenagers...
War of words between Beijing and Canberra is escalating as Australian Treasurer Josh Frydenberg Wednesday dismissed China's anger on Home Affairs Minister...
Da Nang: A late-night emergency meeting of regional trade ministers has resolved to try again to revive the Trans-Pacific Partnership, but any final deal...
In a much-anticipated visit, Indian Prime Minister Narendra Modi is arriving in Sydney late Monday for a three-day official visit at the...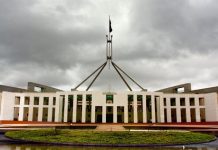 Yasir Rehman Amid the unending citizenship fiasco, Prime Minister Turnbull and his coalition government facing lowest acceptance revealed in the latest Newspoll, which would see...