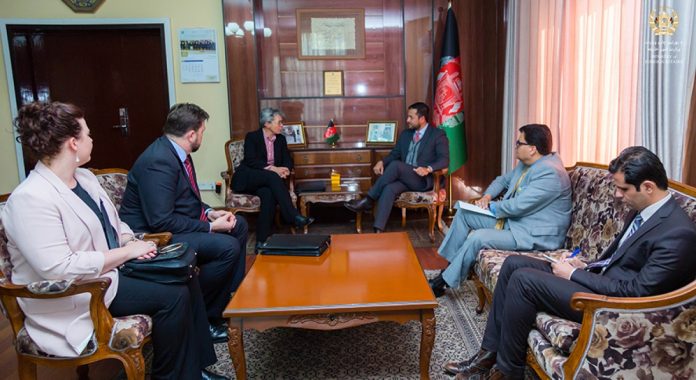 Australia has assured her continued support and cooperation to the people and the Government of Afghanistan.
The assurance came in a meeting between Deputy Foreign Minister of Afghanistan Dr. Nasir Ahmad Andisha and Australian Assistant Secretary at the Department of Foreign Affairs and Trade Mr. James Hall and Australian Ambassador to Kabul Ms. Gordon Smith, said a statement issued from Ministry of Foreign Affairs of Afghanistan.
Mr. James Hall informed Deputy Foreign Minister that the Australian Government had pledged, in the recently held Geneva Conference, USD 5 million of assistance to counter draught in Afghanistan in addition to the previous assistance.
Thanking the Australian delegation for participating in Geneva Conference, Dr. Andisha explained in details the peace process with the Taliban and ensured that the achievements of the Afghan Government and the International Community over the last 17 years would be preserved in this process.
Both sides also discussed and exchanged views on the Afghan-Australian diplomatic relations' 50th anniversary to be held in Canberra, Australia. The event will include a Joint Academic Conference on both countries as well. Director Political Division of the Ministry of Foreign Affairs Ambassador Khalid Zekrya also participated in this meeting.