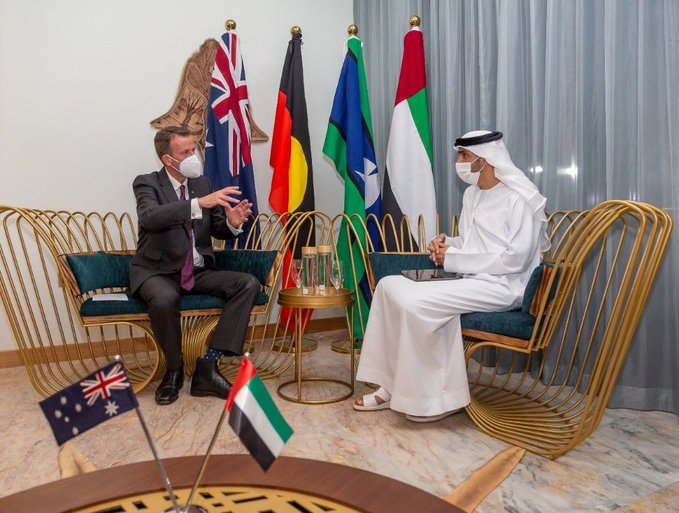 Australia and the United Arab Emirates (UAE) has announced to pursue a Comprehensive Economic Partnership Agreement (CEPA) to grow the trade relationship between both countries as the two way trade crossed $6.8 billion in 2020 (over $10 billion pre-COVID).
A trade deal with the UAE would be a first for Australia in the Middle East. The CEPA, a bilateral free trade agreement, has significant potential to strengthen and deepen the dynamic relationship between the two countries.
The United Arab Emirates (UAE) is Australia's largest trade and investment partner in the Middle East and 19th largest export market globally for Australian goods and services.
On 17 March 2022, Minister for Trade, Tourism and Investment Dan Tehan and Dr Thani bin Ahmed Al Zeyoudi Minister of State for Foreign Trade issued a joint statement announcing Australia and the UAE's intention to pursue a Comprehensive Economic Partnership Agreement (CEPA).
Previously, Australia and the UAE commenced negotiations on a Free Trade Agreement (FTA) in March 2005, which was subsumed into negotiations on an Australia-Gulf Cooperation Council (GCC) FTA. The negotiations with the GCC commenced in July 2007, with last negotiating round held in June 2009.
"The UAE is Australia's gateway to the Middle East and presents an opportunity for greater trade diversification," Mr Tehan said.
Dan Tehan said that Australia has more than 300 key businesses operating in the UAE, including in building, construction, financial services, agricultural supplies and training services and a CEPA would create more opportunities for Australian businesses and workers.
Currently, Australia's major exports include aluminium oxide, meat (beef, sheep, and lamb), vehicle parts and accessories, and telecom equipment and parts. There are further opportunities for Australian business in the UAE including in services, agriculture, education and tourism, particularly given the UAE's position as a regional hub, and through increased investment and people-to-people links.
"A UAE CEPA would also be an important building block to a subsequent potential free trade agreement with the wider Gulf Cooperation Council", he remarked.
Both countries have agreed to undertake preparatory discussions and domestic consultations as soon as possible, with a view to commencing formal trade negotiations in the near future.
The Australian Government is seeking stakeholder submissions on the particular opportunities and benefits for Australian businesses of a CEPA with the UAE. Further information is available at https://www.dfat.gov.au/uaecepa
The Australian Government will also be seeking stakeholder submissions to help inform a potential future resumption of negotiations on a free trade agreement with the GCC.