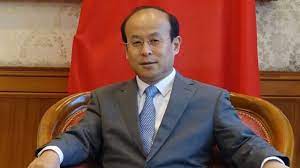 Chinese Ambassador in Australia Xiao Qian met with Minister for Foreign Affairs Marise Payne in Sydney on March 9 where both sides discussed and exchanges their respective positions on bilateral relations and international issues of mutual concerns.
A chinese embassy statement issued late on March 10 reads that Ambassador Xiao elaborated the Chinese side's positions and propositions on the China-Australia relations.
"Historical development of the relations between the two countries has fully demonstrated that China-Australia friendship and mutually beneficial cooperation are in the common interests of both sides, and have brought tangible benefits to both countries and peoples", Ambassador Xioa remarked.
This year marks the 50th anniversary of the establishment of diplomatic relations between China and Australia.
He hoped that the two sides will work together to review the past and look into the future, adhere to the principle of mutual respect, equality and mutual benefit, and make joint efforts to push forward China-Australia relations along the right track.
Minister Payne expressed welcome to Ambassador Xiao on assuming his post in Australia and set forth Australian side's views on Australia-China relations.
Minister Payne affirmed the importance of Australia-China relations and hoped that the two sides would enhance communication and exchanges.
According to SBS Senator Payne set out frankly Australia's position on a range of issues including the importance of appropriate ministerial and other high level dialogue and engagement, stability in the Indo-Pacific, free and open trade, human rights and the welfare of Australians detained in China.
"Australia remains committed to a constructive relationship with China in which we can pursue areas of cooperation while remaining consistent with our own national sovereign interests and focused on stability".
The two sides also exchanged views on relevant international and regional issues. Ms Payne also emphasized that Beijing should use its influence to encourage Russia to end its invasion of Ukraine.