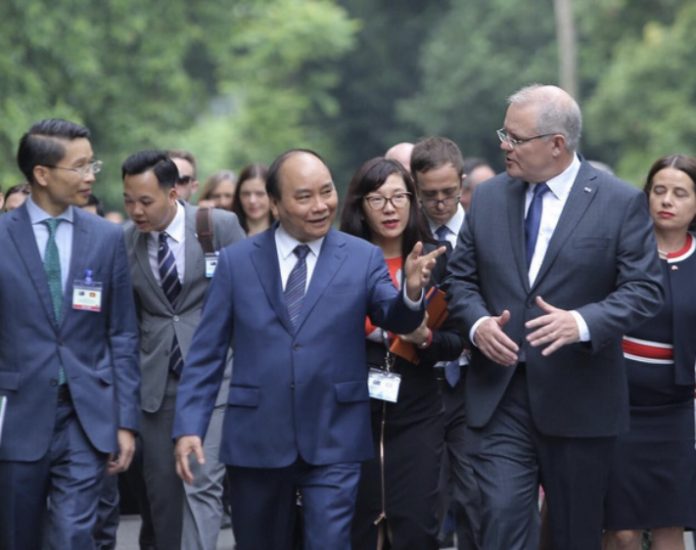 Prime Minister Scott Morrison held a telephonic conversation with Vietnamese counterpart Nguyen Xuan Phuc to discuss bilateral and regional cooperation between the two countries amid COVID-19 pandemic.
"Mr Phuc briefed Morrison on Thursday about the outcomes and shared Viet Nam's experience in the fight against COVID-19, emphasizing that the measures taken so far by the Vietnamese Government aim to protect its citizens and foreign nationals as well", Vietnam official newspaper reported Friday.
Scott Morrison spoke highly of the Vietnamese Government's efforts and measures to cope with COVID-19, expressing his wish to strengthen cooperation and mutual support with Viet Nam in this fight.
He also offered technical support for Viet Nam to mitigate negative impacts of the pandemic and affirmed his Government would create favorable conditions for Vietnamese students to continue studies in Australia.
The Australian PM also highly valued the role and initiatives of Viet Nam as the current ASEAN Chair, pledging to continue supporting and collaborating closely with the Southeast Asian country over regional and international issues of shared concerns in order to accelerate cooperation in response to common challenges for peace and stability in the region and the world.
The two PMs agreed to continue joint efforts to further deepen the trusted strategic partnership between the two countries, maintain high-level, foreign ministerial, defense ministerial, and economic ministerial contacts.
They also agreed to prepare measures to restore tourism, aviation and people-to-people exchanges after the pandemic is contained.