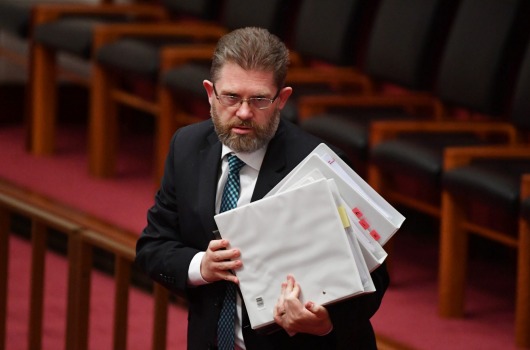 Liberal senator Scott Ryan has abandoned the Turnbull government frontbench to become Senate President, replacing Stephen Parry and creating another vacancy in the ministry.
Senator Ryan won a ballot of Liberal senators on Monday morning, paving the way for him to take up the plum posting with support from the opposition.
Finance Minister Mathias Cormann will take over Senator Ryan's portfolio temporarily, until Prime Minister Malcolm Turnbull promotes someone new as part of a broader reshuffle.
The Nationals had threatened to run veteran NSW senator John Williams against the Liberals for the coveted $355,000-a-year Senate President job but ultimately decided against it.
Other Liberals who put their hand up for the job were Ian Macdonald, Dean Smith and David Fawcett.
At 44, Senator Ryan is the youngest person to ever hold the role.
The Greens proposed its Tasmanian senator Peter Whish-Wilson for the role but got only 11 votes to Senator Ryan's 53. There was one invalid vote.
Senator Whish-Wilson said the government had mishandled Senator Parry's resignation and had brought disrespect onto the position of Senate president.
"There are no rules and regulations that says the government of the day has to have the President's position in this chamber," Senator Whish-Wilson said.
Senator Ryan, from Victoria, has been a minister since early 2016 and was appointed as special minister of state shortly after last year's election.