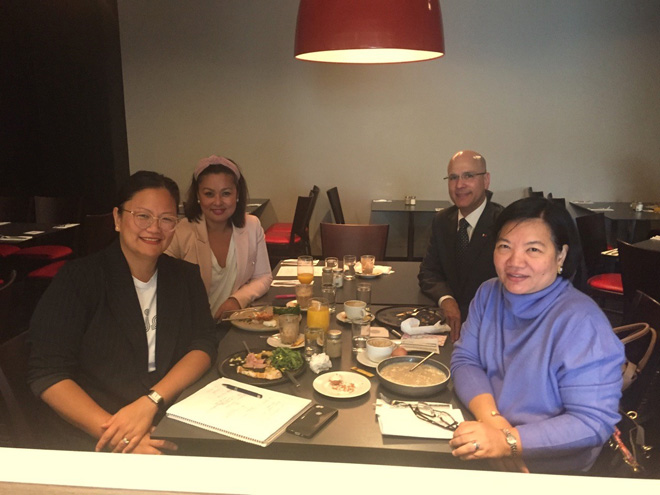 Ambassador of Philippines to Australia Ma. Hellen B. De La Vega early this week visited Melbourne and met Filipino entrepreneurs Fides Santos-Arguelles and Grace Guinto, the founders of Entrée.Pinay and discussed initiatives that will contribute in mainstreaming Filipino cuisine in Australia.
Entrée.Pinay is a Melbourne-based group of Filipino entrepreneurs passionate about Filipino food and culture, said a statement from embassy of Republic of Philippines.
In March 2019, Entrée.Pinay organized BARRIO: A Filipino Neighborhood Feast Reimagined for the Melbourne Food and Wine Festival. BARRIO featured a masterclass, a book launch and two sold-out nights in the global dining series that showcased 13 Filipino dishes.
The Ambassador congratulated Entrée.Pinay on the success of BARRIO and expressed appreciation for their efforts.
"Entrée.Pinay's initial success is significant in promoting Filipino cuisine and ingredients in Australia and in contributing to the sustainability of social enterprises and artisan communities in the Philippines', the Ambassador said on the occasion.
Entrée.Pinay will host a pop-up event, Mother's Day Merienda, on 12 May at the South Melbourne Market. They will also participate in the IFEX Philippines on 24-26 May in Manila.
IFEX Philippines is the country's biggest international trade exhibition for ethnic and specialty food, tropical fruits, vegetables, seafood, beverage, bakery and confectionary products, meat and poultry, Halal-certified products, as well as natural, organic and healthy food products