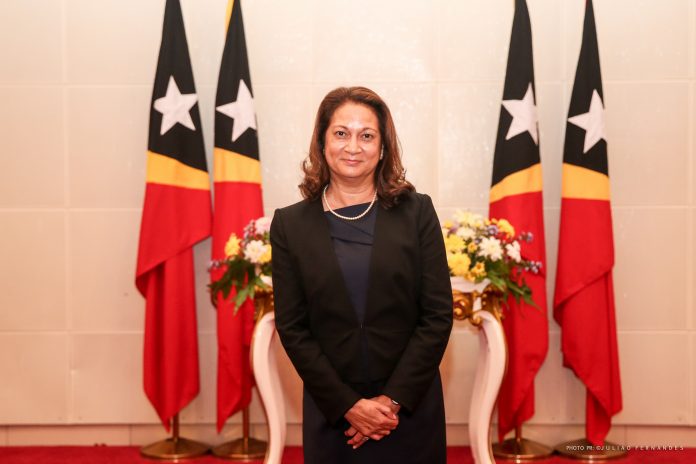 Timor-Leste's Ambassador to Australia, Ms Inês Maria De Almeida today begins an official visit to the State of Western Australia, to meet with members of the Timorese community, and to attend the Australasian Oil and Gas Exhibition and Conference, to take place in Perth, from 11-13 March 2020.
During her visit, the Ambassador will meet with Alannah MacTiernan, Minister for Regional Development and Agriculture, to discuss economic opportunities through innovation and investment in the agricultural industry, said a statement issued by the embassy of Timor-Leste.
Minister MacTiernan has been a champion of the Seasonal Worker Programme (SWP), a programme that has enabled Timorese workers to work in Australia since 2012.
Ambassador Almeida will also visit several farms currently hosting Timorese seasonal workers to speak to Australian employers and Timorese working in the farms about their experiences with the programme.
"Our workers are here working primarily in the horticulture industry in Western Australia. The Pacific Labour Scheme is a very important initiative for Timor-Leste and contributes greatly to the up-skilling of young Timorese. Our young Timorese return with greater skills, and funds, to make positive contributions to Timor-Leste's national development, to their families and to themselves", said Ambassador Almeida.
While in Western Australia, the Ambassador will also visit Notre Dame University to discuss opportunities for cooperation in higher learning and training, including also scholarships for Timorese academics at the university.
Ambassador Almeida will pay a visit to Austal Ships to inspect two new guardian class patrol boats, currently being built and expected to be delivered in 2023. The patrol boats form part of the Australian Government's Pacific Maritime Security Program, and will provide highly important surveillance and response capability to the F-FDTL.
The Ambassador will also meet with the 2/2 Commando Association in Perth, to discuss the benefits of the Timor Awakening programme to veterans of Australia and Timor-Leste, and to discuss opportunities to build on the successes of the programme achieved so far.
The Ambassador will meet with key representatives from ConocoPhillips, Santos Ltd., Woodside, and Australian Capital Equity, to discuss oil and gas, and mining issues, including diversification of the industries to create jobs for the Timorese and boost exports.
To this end, Ambassador Almeida will deliver a keynote speech at the Australasian Oil and Gas Exhibition and Conference Ambassador, and will be joined by the President of Timor-Leste's National Authority for Petroleum and Minerals, Mr. Gualdino da Silva, and the Director of Explorations and Acreage, Mr. Mateus da Costa.
"I expect this official visit to be highly successful, and will focus on strengthening relations with the State of Western Australia, on how we can continue to work together on existing programs, and exploring avenues for future programmes that benefit the people of Timor-Leste and the people of Western Australia," Ambassador Almeida concluded.