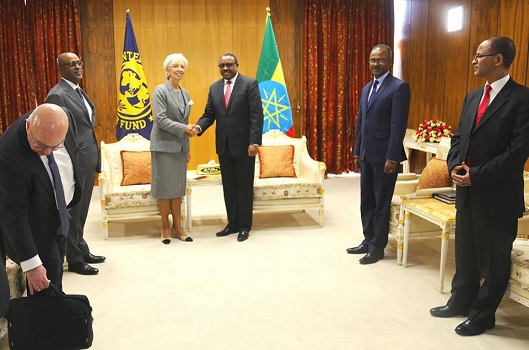 International Monetary Fund has appreciated the paced economic growth of Ethiopia and expressed its understanding of Ethiopian economic development model.
The views were expressed by visiting IMF Managing Director, Christine Lagarde in Addis Ababa after meeting with country leadership. Christine Lagarde is the first head of IMF who visited Ethiopia.
A statement issued from Ethiopian embassy in Canberra said that in her three-day visit she held meetings with President Dr. Mulatu Teshome and Prime Minister Hailemariam Dessalegn and other officials as well as speaking at the Economic Commission for Africa (UNECA) and the African Union (AU) and visiting the Eastern Industry Zone in Dukem and the Hamlin Fistula Hospital.
IMF head described her talks with President Mulatu as very productive. She said the Ethiopian economy, which was doing very well in terms of growth, was "clearly at the juncture where it is looking at alternative drivers of growth." She discussed with Ethiopian authorities about their plans to transform Ethiopia's economy.
She said she was in Ethiopia to "better understand the economic development model which has been implemented in Ethiopia."
Meanwhile Ethiopian Deputy Prime Minister Demeke during his talks with Dr. Mostafa Madbouly, Acting Egyptian Prime Minister has reaffirmed Ethiopia's position on utilizing the Nile water in an equitable and reasonable way.
He assured Dr. Madbouly that Ethiopia fully understood the water needs of Egypt. He reiterated that the GERD dam would not cause significant harm to the downstream countries.