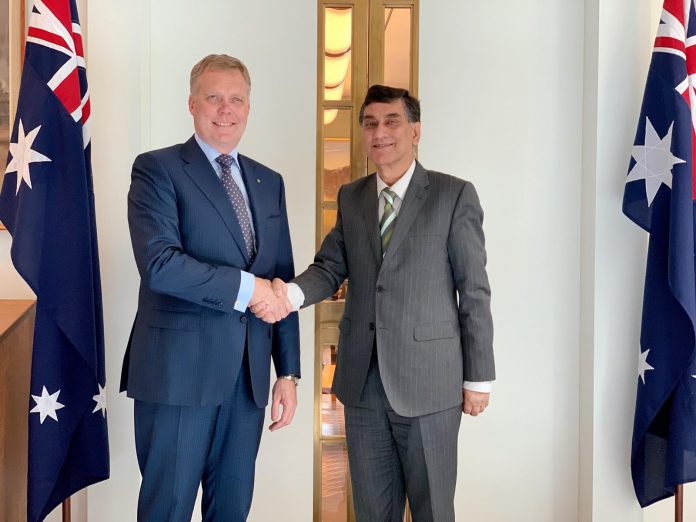 With the marked improvement in the security situation, Pakistan has called for the Australian cricket team to visit the country for a series. Australia is currently visiting UAE for Pakistan's home series.
The issue was raised by the High Commissioner for Pakistan Babar Amin during a meeting with the Speaker of the House of Representatives, Tony Smith MP, in his office, on Tuesday. Tony Smith while lauding the enormous cricket talent in Pakistan expressed the hope that the Australian cricket team would visit Pakistan in future.
A statement issued by Pakistan High Commission said Babar Amin expressed Pakistan's desire to further strengthen parliamentary relations with Australia.
While stressing the need to enhance exchange of bilateral Parliamentary visits High Commissioner informed the Speaker that a new Pakistan-Australia parliamentary friendship group is being formed in the National Assembly of Pakistan.
Mr. Smith agreed to the need of greater interaction but indicated that the earliest such visits could take place would be after the Australian parliamentary elections next year.
Pakistan's High Commissioner briefed the Speaker about the OHCHR's report on human right's violations in Indian held Kashmir. He expressed the hope that Australia and Pakistan, being members of the Human Rights Council, would work together to support the recommendations contained in the report, most importantly, to form an Independent Commission of Inquiry on human rights violations in Kashmir.
The High Commissioner also drew attention of the Speaker towards consular matters of Pakistani community in Australia and highlighted the contribution of the Pakistani diaspora in the socio-economic and political environment in Australia.