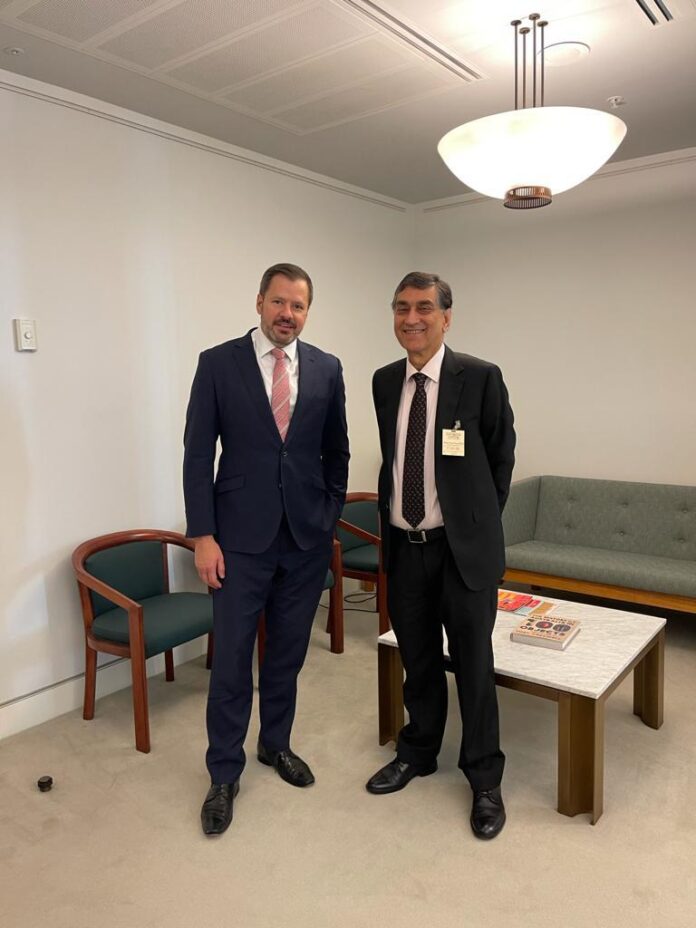 Pakistan High Commissioner to Australia Babar Amin Tuesday held a meeting with Member Parliament ED Husic on the side-lines of ongoing session of Australian Parliament in Canberra.
During the meeting, the High Commissioner thanked Mr Husic for joining Pakistan-Australia Friendship Group and hoped that the Australian Parliamentary Friendship Group would visit Pakistan as soon as the Covid-19 travel restrictions were eased.
The High Commissioner highlighted the important role the Parliamentary Friendship Groups could play to enhance relations in political, trade and economic and education fields. The High Commissioner appreciated the close people-to-people contacts between the two sides which was the hallmark of relations.
The High Commissioner also raised the issue of Pakistani students stranded in Pakistan due to the Covid-19 travel restrictions and hoped that the students could return at the earliest.
The High Commissioner also exchanged views on bilateral and international issues of mutual interest and briefed on the situation in IIOJK, including enhanced extra-judicial killings, use of pellet guns and custodial killings by Indian Security Forces since 5 August 2019.
Mr Husic thanked the High Commissioner for briefing on bilateral relations and situation in South Asia. He expressed keen interest to work together through the Parliamentary Friendship Group in the identified areas.
He also assured to raise the issue of stranded students with the concerned stakeholders. While discussing the rise of extremist and Far Right tendencies around the world, he stated that he was a strong advocate of interfaith dialogue and harmony between the communities. He added that while the actions of some individuals were shocking, violence could not be condoned.