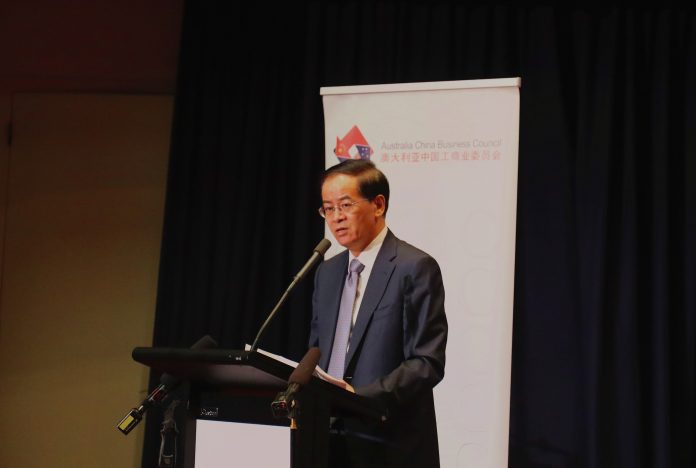 Chinese Ambassador in Australia Cheng Jingye Thursday stressed that China does not want a trade war, but is not afraid of fighting one.
"We always believe that negotiations should be based on equality and mutual respect, conducted in a sincere, principled, trustworthy and rules-based manner for mutual benefits and win-win results", Chinese Ambassador wrote in his article on US-China trade disputes published in 'The West Australian' on August 15.
He said that the unilateral imposition of new tariffs on China by the US has not only derailed China-US economic and trade co-operation, but also violated the rules of the WTO, undermined the authority of its dispute settlement mechanism, and seriously disrupted the global industrial and supply chain.
"The price will be paid by the entire international community", he warned.
Chinese Ambassador blamed United States for violating the Osaka consensus and Shanghai negotiations by imposing unilaterally additional tariff on Chinese goods.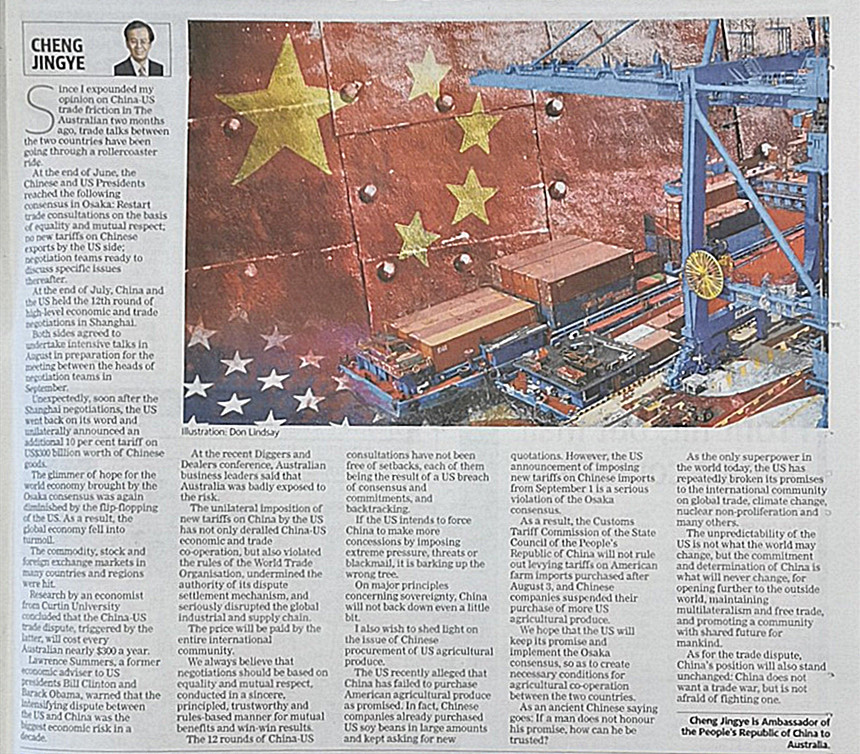 "The glimmer of hope brought by the Osaka consensus for the world economy was again diminished by the flip-flopping of the US. As a result, the global economy fell into turmoil. The commodity, stock and foreign exchange markets in many countries and regions were hit", he maintained.
He wrote that 12 rounds of China-US consultations have not been free of setbacks, each of them being the result of a US breach of consensus and commitments, and backtracking.
"If the US intends to force China to make more concessions by imposing extreme pressure, threats or blackmail, it is barking up the wrong tree", Ambassador Cheng Jingye said.
He asserted that on major principles concerning sovereignty, China will not back down even a little bit.
Criticizing US track record of broken promises, Ambassador Cheng said as the only superpower in the world today, the US has repeatedly broken its promises to the international community on global trade, climate change, nuclear non-proliferation and many others.
"The unpredictability of the US is not what the world may change, but the commitment and determination of China is what will never change, for opening further to the outside world, maintaining multilateralism and free trade, and promoting a community with shared future for mankind", he emphasized.
"As for the trade dispute, China's position will also stand unchanged: China does not want a trade war, but is not afraid of fighting one", he declared.
Ambassador Cheng Jingye hoped that the US will keep its promise and implement the Osaka consensus, so as to create necessary conditions for agricultural co-operation between the two countries.