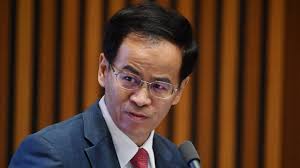 Chinese Ambassador in Australia Cheng Jingye unhappy over recent statements of Australian government on situation in Hong Kong Saturday categorically stated that Hong Kong affairs are solely the internal affairs of China, foreign governments must not interfere in Hong Kong's affairs. Chinese government's determination to safeguard "One Country, Two Systems" is unwavering.
"Foreign governments and entities should strictly abide by international law and basic norms governing international relations, not support violent radicals, not interfere in Hong Kong's affairs and China's internal affairs in whatever form", Ambassador Cheng Jingye warned in a statement on the current situation in Hong Kong.
He said any attempt to mess up Hong Kong is doomed to fail.
Chinese Ambassador termed the recent demonstrations in Hong Kong as radical, violent and illegal behaviors, which have gone far beyond freedom of assembly, demonstration and protest.
"The intention of certain extreme radicals is to mess up Hong Kong and undermine "One Country, Two Systems" under the cover of so-called "pro-democracy" movement", he lamented.
He said the behaviour of the protestors have grossly trampled on the rule of law and social order in Hong Kong, seriously threatened the local residents' life and safety, severely jeopardized Hong Kong's prosperity and stability.
"No responsible government would sit idly by", he warned.
Ambassador Cheng Jingye stated that the most pressing and overriding task of Hong Kong at present is to stop violence, end the chaos and restore order, which represents broad and strong aspiration of the Hong Kong society.
"The central government firmly supports the SAR government led by Chief Executive Carrie Lam to administer Hong Kong, the Hong Kong police in strictly enforcing laws, the SAR government departments and the judiciary body in punishing violent criminals according to law", he continued.
Chinese Ambassador was of the view that a prosperous and stable Hong Kong serves the interests of international community including Australia.
He hoped that people from all walks of life in Australia will see the real picture of situation in Hong Kong, act in the interests of Hong Kong's prosperity, stability and rule of law.