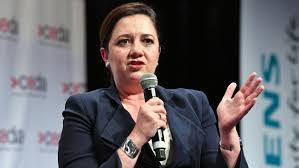 IT WAS the issue that hijacked the Queensland election and Saturday's result could see a $1 billion taxpayer-funded loan to Adani scrapped.
Federal Resources Minister Matt Canavan has confirmed he would respect Labor's election promise to veto the loan if the party was returned to government as expected.
"The Queensland Government can veto, they're in their rights to do it," Mr Canavan told Insiders."(But) if they seek to destroy the thousands of jobs that will be created, or the hundreds of jobs that have already been created, that will be hung around their necks and it will be a great millstone for any Labor Party going into a future election in regional Queensland."
Unlike Labor, the Liberal National Party supported the loan and Mr Canavan said he did not accept there was strong sentiment against Adani's mine saying the results in the election did not support this.
"In regional Queensland, the Labor Party vote is less than 30 per cent, the Greens vote is almost non-existent," he said.
"The reality is in regional Queensland, this mine is greatly supported," he said.
Mr Canavan pointed to the success of independent Margaret Strelow in the seat of Rockhampton. The Rockhampton Mayor decided to stand as an independent after missing out on Labor preselection and publicly declared her support for the loan.
But the issue may have gained traction in the south-east of the state. The Greens polled well in inner Brisbane areas and some believe sentiment against the mine, and in particular the loan, helped to deliver this result.