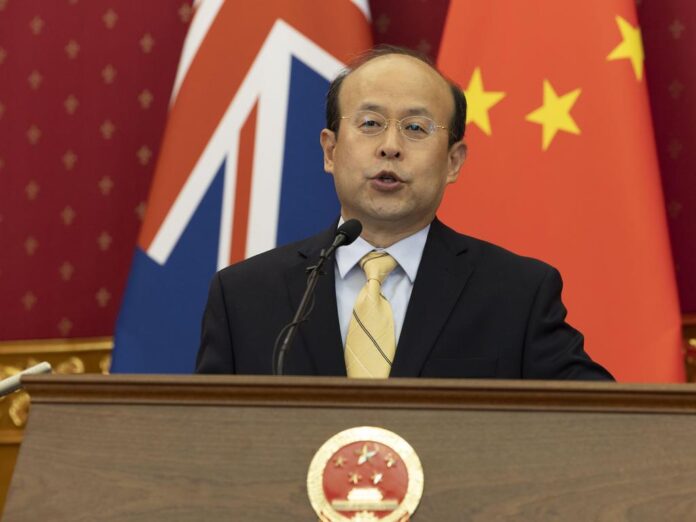 China's ambassador to Australia Xiao Qian has strongly criticised the AUKUS pact, declaring Australia's push for nuclear-powered submarines as "confrontational" and an "unnecessary consumption" of taxpayers' money.
"If it happens, that's not going to serve the interests of Australia. Maybe it's going to serve the interests of other countries", he told reporters at a new year's press conference at the Chinese embassy in Canberra on Tuesday.
He said if Australia really spends money to purchase the nuclear submarines it's going to be an unnecessary consumption of the Australian taxpayers' money adding China would continue to frustrate the AUKUS proposal through diplomatic bodies such as the International Atomic Energy Agency, as the project was "not in accordance with Australia's policy of nuclear non-proliferation".
"I don't think it's constructive. I don't think it's helpful, particularly when you're targeting China as a potential threat and adversary. China is not seeking to be an enemy to the United States – neither with the United Kingdom, nor with Australia", he said.
"So there is no reason for the countries to stand together to work on something that is targeting China as a particular threat".
On a question about the fate of detained Australians Cheng Lei and Yang Hengjun, Ambassador Xiao Qian said that that Australian officials and politicians had been advocating relentlessly on their behalf, but China had been patiently explaining to Australia that there was a legal process underway.
"I hope a solution will come as soon as possible but we need to respect the legal procedure," he said.
Ambassador Xiao Qian rebuked Japanese Ambassador in Australia Ambassador Xiao Qian for his comments about China warning that Japan is a greater military threat than China.
"I'm afraid our colleague from Japan is not doing his job," Xiao said.
"It's not my role to base myself in Canberra while criticising third countries. It's not my role … to try and stop Australia developing normal relationship with a third country," he added.
He said Japan is a great country, Japanese people are great people, Chinese people and Japanese people are very friendly.
"There are a handful of people, a handful of political forces, in that country (Japan) that are taking a twisted way of looking at history, a twisted way of looking at China, a twisted way of looking at the relations between China and Australia. That is not constructive; that is not helpful", he said.
Mr Xiao suggested that Tokyo might one day once again pose a military threat to Australia.
"During World War II, Japan invaded Australia, bombed Darwin, killed Australians, and treated Australian POWs in a way that was unacceptable", he said adding Japanese government has not apologised for that … does that mean they have really realised it's wrong? If they don't apologise, they don't accept it's wrong, and they might repeat the history.
"When someone threatens you they might threaten you again".
On the bilateral relations, he described Australia-China relationship as at "a critical stage of turnaround and suggested that Australia and China could seek to resolve trade blockages on $20 billion of Australian imports through direct negotiation rather than the World Trade Organisation.
"Bilateral is much easier to find a solution instead of going through the multilateral forum", he told reporters.
Ambassador Xiao hoped to see continued improvements in Australia and China's trade relationship following recent reports that state-owned enterprises would begin purchasing Australian coal again.
He noted that Beijing has complaints about restrictions on Chinese investment in Australia, saying: "There are also concerns from the Chinese side".
He was also hopeful senior Chinese ministers would visit Australia this year.