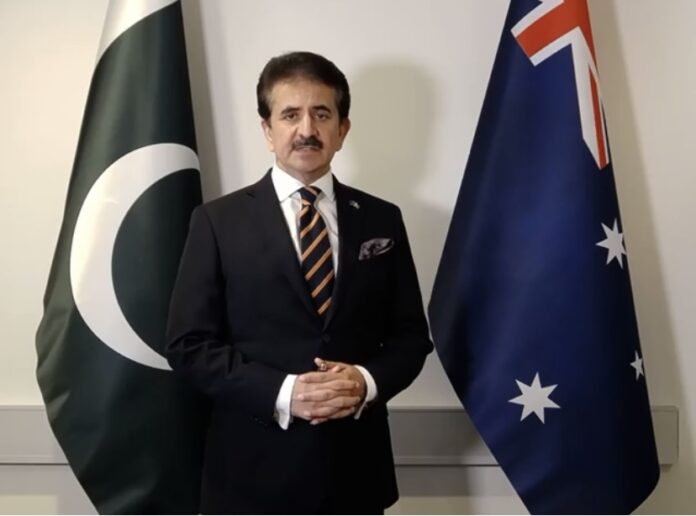 To educate Pakistani youth about the opportunities available in various sectors in Australia for Pakistani citizens, Pakistan High Commission in Canberra on January 25 launched a new initiative called, "Opportunities Conference". The initiative will help to enhance bilateral cooperation between Pakistan and Australia.
The initiative was launched today by High Commissioner H.E. Zahid Hafeez Chaudhri at a Webinar attended by over 5,000 participants including Deans of various universities, staff of pharmaceutical companies, and students. The webinar was broadcasted live on High Commission's YouTube Channel and Facebook page.
The Webinar was focused on the pharmaceutical sector of Australia. It featured a panel of 8 speakers from the pharmacy sector in Australia, including pharmacists, educators, and representatives from prominent pharmacy associations and networks including Pharmacy Guild of Australia (Tasmania), Pharmaceutical Society of Australia, Terrywhite Chemmart, Amcal, Star Pharmacies and others.
The speakers provided insights into the opportunities available for Pakistani citizens in the pharmacy sector, as well as the steps that need to be taken in order to secure a job in Australia.
The speakers informed the participants about requirements for securing a pharmacist job in Australia i.e., registration with the Pharmacy Board of Australia, a relevant degree, and need to pass an accreditation exam to practice as a pharmacist in Australia.
Pakistani High Commissioner addressing the webinar highlighted the growing significance and contributions of Pakistani Diaspora in Australia. Talking about the pharmaceutical sector, the High Commissioner stated that there is a growing demand for qualified pharmacists, particularly in rural and remote areas of Australia. Additionally, as the population ages and the demand for healthcare services increases, there is expected to be continued growth in the pharmacy sector.
Pakistan has a large young English-speaking population. Each year, a large number of Pakistani students qualify as pharmacy graduates. The pharmacy sector in Australia offers many opportunities for those Pakistani citizens who are interested in a healthcare career and are willing to meet the necessary qualifications and standards. There are a variety of settings for which Pakistani pharmacists may search for job opportunities including hospital, community, industrial, research, teaching, or administration.
The High Commission for Pakistan in Australia is committed to supporting the professional development of Pakistani citizens and will continue to hold such sessions to provide information about the in-demand professional fields in Australia, including the qualifications and requirements for working in the particular field, as well as the current job market and economic conditions.