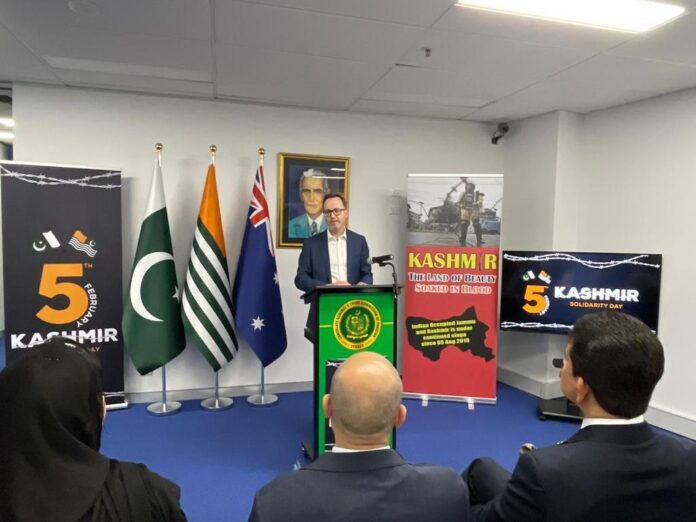 Senator David Shoebridge while emphasising for the universality of human rights has called on international community to protect the human rights of the people of Jammu and Kashmir.
Addressing a seminar to mark the 'Kashmir Solidarity Day', he stated that the international community needed to stand up for the universal human rights of the people of Jammu and Kashmir.
Seminar was organized by at the Consulate General for Pakistan, Sydney on 3 February 2023 which was attended by Members of the Australian Parliament, journalists, academicians, human rights
activists and members of the Pakistani and Kashmiri community.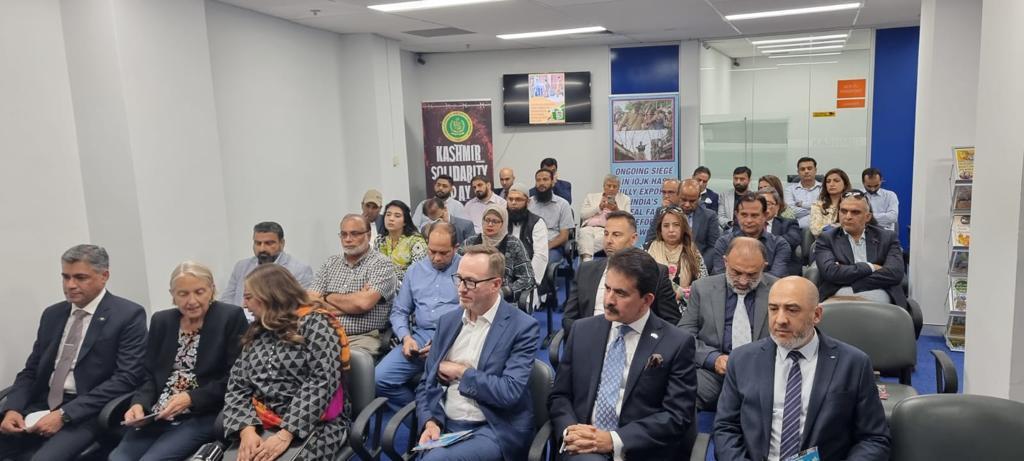 The keynote Speakers included Senator David Shoebridge, Senator Dr. Mehreen Faruqi, former Senator and human rights activist Lee Rhiannon, President of the Australian Federation of Islamic Councils Dr. Rateb Jneid and High Commissioner for Pakistan Mr. Zahid Hafeez Chaudhri.
Senator David Shoebridge said that commercial and political considerations must not take precedence over universal human rights and long-term relations between countries must be based on shared human values.
The Speakers highlighted the grave human rights situation in the Indian Illegally Occupied Jammu and Kashmir (IIOJK) and underscored the urgent need for resolution of the Jammu and Kashmir dispute in accordance with the relevant United Nations Security Council (UNSC) resolutions and as per the aspirations of the Kashmiri people.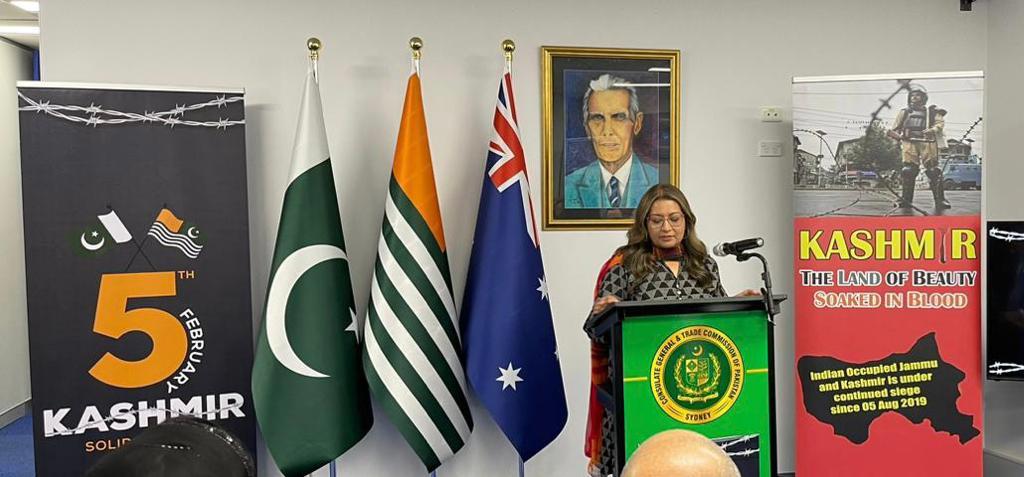 Highlighting India's illegal and unilateral actions of 5 August 2019, Senator Mehreen Faruqi expressed grave concern over the gross and systematic human rights violations in IIOJK. She also questioned the deafening silence of the international community over the protracted humanitarian crisis in the occupied
territory.
She expressed firm resolve to continue to raise her voice at all foras.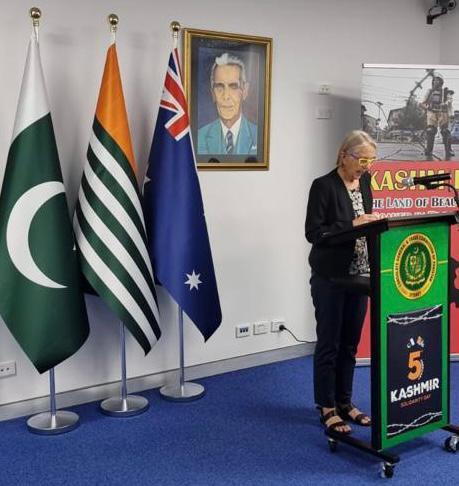 Ms. Lee Rhiannon called for building a broader awareness about Indian atrocities in IIOJK. She highlighted the need for building global support for Kashmiris' right to self-determination. She said that the Indian occupation of Kashmir was one of the longest and the bloodiest occupations in the world.
She stressed that the Kashmiri people had every right to struggle against the illegal Indian occupation of Jammu and Kashmir.
Dr. Rateb Jneid condemned the Indian occupation of Jammu and Kashmir for the past more than seven decades. He stated that Kashmir was an ongoing example of colonial oppression and urged the international community to support the Kashmiri people in their rightful struggle for self-determination.

High Commissioner Mr. Zahid Hafeez Chaudhri in his remarks, called upon the international community to urge India to lift its military siege of IIOJK, release the incarcerated Kashmiri leaders, stop and reverse the changes in the demographic structure of IIOJK; end extra-judicial killings in fake encounters and staged cordon and search operations and restore all fundamental rights and freedoms of the Kashmiris people.
He reaffirmed Pakistan's full support to the Kashmiri people in their just struggle till the realization of their right to self-determination as enshrined in the relevant UNSC resolutions.