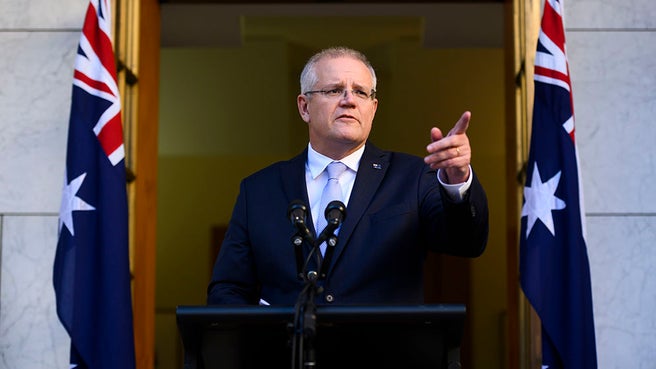 Prime Minister Scott Morrison Thursday expressed deep concerns over Turkey's military operation into northeastern Syria warning that it will have grave consequences for regional security.
In a joint statement with Foreign Minister Marise Payne, Mr Morrison acknowledged that Turkey has legitimate domestic security concerns but said unilateral cross-border military action will not solve these concerns.
"Operation could significantly undermine the gains made by the international coalition in its fight against Da'esh, which remains a serious threat to regional peace and security despite its territorial defeat", joint statement read.
He also urge restraint and call on all parties to the conflict in Syria to avoid escalatory or opportunistic actions that cause further instability and humanitarian suffering.
Extracting Australian women and children from Syrian camps is dangerous: Marise Payne
Prime Minister said that we have expressed this view directly to the Turkish Government and also in close contact with our US, European, Middle East and other allies and security partners, including through our Embassies and other officials.
Twenty Australian women and more than 40 children are trapped in the squalid al-Hawl camp in northern Syria after family members were killed or jailed after fighting alongside the Islamic State terror group.
Mr Morrison said Government remains concerned for the Australians in these camps but, as we have previously stated, the situation is dangerous and unpredictable, and we will not put Australian officials and the public in danger.
Foreign Minister Marise Payne in an interview to ABC Radio on Wednesday said extracting Australian women and children from camps in Syria is a dangerous, complex and time-consuming task.
Home Affairs Minister Peter Dutton Thursday said that Australia could be at risk of a major terror attack if Australian Government rescues the partners of Islamic State fighters from Syria.
"I had received advice that some of the women were as "hardcore" as the male Islamic State fighters they spent time with, so I don't think it should come as a surprise when we say we're not going to send our soldiers to rescue people of this nature", Mr Dutton told 2GB.