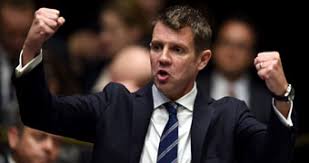 Former NSW premier Mike Baird was paid almost $900,000 for his first five months as the head of National Australia Bank's institutional banking.
NAB's annual report for the year to September 30 shows Mr Baird, who took up his role on April 21, received total remuneration of $886,845, including $763,520 of cash in salary and short-term incentives. This is more than double the $387,600 the NSW premier is paid.
If the same remuneration was annualised, this would equate to $2.1 million.
The annual report showed NAB chief executive Andrew Thorburn received total remuneration of $6.63 million, down slightly on the $6.71m he was awarded in the previous financial year.
Mr Thorbun's total remuneration included $977,500 in short-term incentives, 49 per cent of the of the possible maximum he could have received, down from 69 per cent the previous year.
It comes as the bank posted a $5.29 billion full-year profit, a 2.5 per cent increase from 2016.
Westpac CEO Brian Hartzer was the highest paid executive of the major banks for the financial year. He received $6.68m in total remuneration, just shy of last year's $6.75m, but far less than the nearly $13m his predecessor Gail Kelly received in 2014 before she stepped down from the top job.