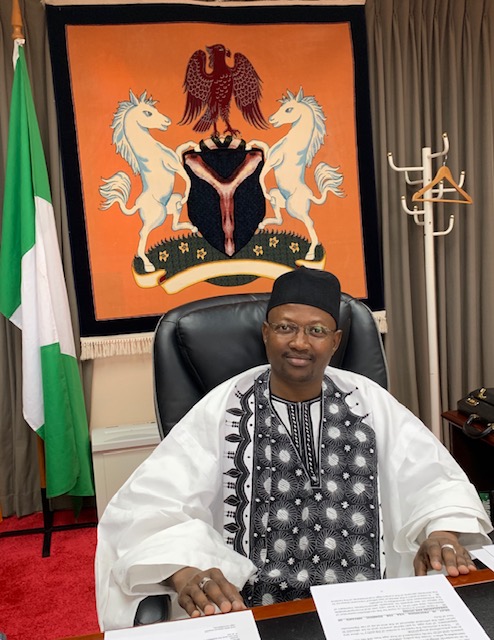 Bello Kazaure Husseni, High Commissioner for Nigeria ambitious to advance the economic and political ties with Australia Thursday shared his plan of action to bring both friendly countries further closer for the mutual benefit of both nations.
"Australia and Nigeria has five decades of cordial and sustained political and diplomatic relations benefitting each other in many ways. We support each other at multilateral forums whether it is United Nations or Commonwealth or South-South Cooperation", Ambassador Bello Husseni told Vibe Media in an exclusive interview in his office.
He said Nigerian economy has grown over the past decade and is the largest in Africa yet trade ties between Nigeria and Australia are much below their potential.
Mrs Bola Ayoka Asaju, Deputy High Commissioner for Nigeria also attended the interview.
"Nigeria is Australia's second-largest trading partner on the continent, with two-way trade totalling $1.3 billion in 2017-18 with trade balance in Nigerian favour but there is a massive scope to increase two-way trade and business ties", he said.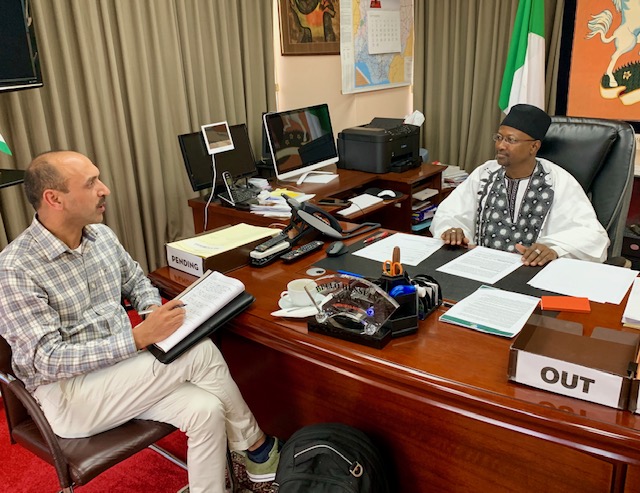 He shared that Nigeria is Africa's most populous country, with a population of about 200 million and it is the largest market in Africa. The two countries are now working closely to see how we can improve our economic relations.
On his road map for increased economic cooperation, Ambassador Husseni shared that we are making all out efforts to increase Australian investments in Nigeria.
"Australia and Nigeria share longstanding relationship with growing people-to-people links as we work closely to promote peace, prosperity and democracy", Foreign Minister Marise Payne.
"Ever since I took over my job as High Commissioner to Australia, New Zealand and other Pacific nations, my top priority remains to give impetus to political and economic relations", he explained.
In this regard last year we organised the Australia-Nigeria Mining Road Show in Melbourne and Perth where we invited Nigerian and Australian mining giants to explore the options of working together and invest in Nigerian mining sector for mutual benefit.
"Nigeria is Australia's second-largest trading partner on the continent, with two-way trade totaling $1.3 billion", Ambassador Husseni
'Under Australia-Nigeria Trade and Investment forum a Nigerian business delegation is set to visit Australia next month to interact with their Australian counterparts in a bid to showcase Nigerian expertise and products in sectors like ICT, mining, agriculture, real estate, banking etc.", he elaborated adding we are planning to arrange another Australia-Nigeria Mining Road Show next year.
Mr. Husseni highlighted that Nigeria's Permanent Secretary of Ministry of Foreign Affairs, Ambassador Martin Uhomoibhi visit to Canberra in 2012 gave impetus to our friendly relations and brought them more closer as both countries signed MOU for regular consultations on bilateral and international issues of mutual interest, including political, economic, commercial, scientific, technical and cultural co-operation.
Nigeria and Australia have established political consultation mechanism to be held in Abuja and Canberra on alternative basis. Both sides already have two rounds of consultations whereas for third round we are in touch with DFAT.
In October 2011, Then Nigerian President Goodluck Jonathan visited Australia and met with then Australian Prime Minister Julia Gillard on the sidelines of Commonwealth summit. Their meeting provided great opportunity to cement bilateral relations.
During this visit President Goodluck signed agreement with Prime Minister Julia Gillard for the establishment of Australia-Nigeria Trade and investment Council with focus on agriculture, mining, energy and financial services.
"Australia and Nigeria share a longstanding relationship with growing people-to-people links. We work closely to promote peace, prosperity and democracy. Australia supports Nigeria's efforts to counter terrorism and combat violent extremism", Foreign Minister Marise Payne said in her statement in March 2, 2019 on the appointment of Ms Claire Ireland as Australia's next High Commissioner to Nigeria.
'About five Australian companies have investments in Nigerian mining industry", Ambassador Husseni
Nigerian High Commissioner lamented that despite cordial relations and goodwill, there is hardly top political leadership interaction in recent years.
"The frequent high level political contacts would serve as catalyst to motivate the private sectors to collaborate in various domains of the economy as both nations offers numerous business and investment opportunities", he argued.
He shared that Nigerian government is planning to invite the Foreign Minister of Australia to inaugurate the new building of Australian High Commission upon its completion.
Mr. Husseni encouraged the Australian government to elevate the level of political interactions including the State and official visits coupled with persuading their private sector to explore largest African market as Nigeria is actively diversifying the economy especially their mining, agriculture and tourism sectors.
He told that Australian investment in Nigeria is currently limited to mining sector only. About five Australian companies have investments in Nigerian mining industry.
"Like Australia, Nigeria has proven reserves of substantial quantities of various solid minerals which are available for extraction and exploitation, such as aluminium, gold, black coal, silver, iron ore, copper, tin, lead, limestone, zinc, tantalite and bitumen. Thus Australia, with its vast technical expertise can assist Nigeria towards the full development of its solid minerals sector", he believed.
Over the years, Nigeria is benefitted with Australian scholarship program. Increasing number of Australian mining companies provided capacity building programs to Nigeria and some through Australian aid.
Also, International Centre of Mining, University of Western Australia and Federal Ministry of Mines and Steel Development of Nigeria have signed a MOU aims to skill development and capacity building in mining sector.
On defence and security cooperation, Nigerian High Commissioner briefed that there is no such defence cooperation agreement between Australia and Nigeria but Australia provide training to Nigerian military personals. On the security front we closely cooperate each other at the international forums as our both nations share common interest in tackling menace of terrorism. We also share intelligence/information about terrorist organizations like Boko haram.
"Ffrequent high level political contacts would serve as catalyst to motivate the private sectors", Nigerian High Commissioner
On the state of Australian economy, Ambassador Husseni said Australia has a strong and robust economy which Nigeria need to benefit. Our High Commission is encouraging Nigerian investors to come and learn from the success stories of Australian economic boom.
He pleaded the Australian government to encourage their private sector to explore the Nigerian untapped Market as Nigeria being Africa's largest market has enormous potential and Australian investors can tap that potential which ultimately will benefit both the nations.
"Among others, tourism is a sector possess vast prospects to promote as Nigeria with diverse tribal culture and historic places offers unique experience for the visitors but unfortunately Australian visitors do not have much information about Nigeria", he said.
About the people to people contacts, High commissioner told that there are over 14,000 Nigerians mostly skilled people living in Australia and contributing in Australian economy.