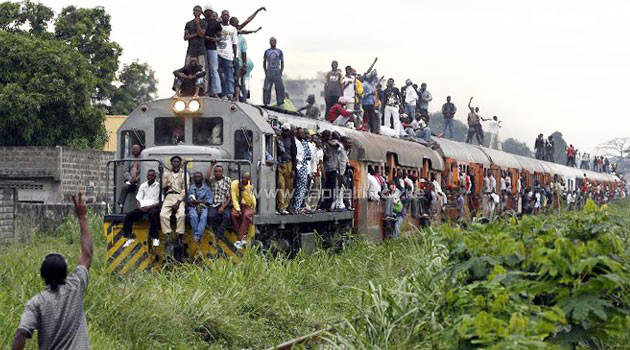 Up to 33 people were feared dead Sunday in the Democratic Republic of Congo after a freight train carrying fuel plunged into a ravine.
The UN's radio Okapi spoke of 33 fatalities with others injured or burned in the accident that occurred in the sprawling mineral-rich province of Katanga, which is the size of Spain.
"Up until now the toll is eight dead and several injured. The toll could be significantly higher," Jean-Marie Tshizainga, the minister of mines of Lualaba province told AFP.
The train, in which the victims were traveling illegally, was running between the country's second city Lubumbashi to Luena in Katanga.
The train was transporting 13 oil tankers and derailed while climbing a slope near the station of Lubudi. It fell into a ravine and the tankers caught fire, radio Okapi said.
"It's a freight train that derailed and it wasn't supposed to be carrying passengers. If there were people on board, we consider them to be illegal travelers," said Sylvestre Ilunga Ilukamba, a senior official from the national railway company.
Katanga has witnessed several deadly train accidents. In 2014, a freight train derailed killing 74 people and injured 163, according to officials but the Red Cross said up to 200 corpses had been buried. The national news agency a month later spoke of 136 deaths.
Another train accident in July 1987 near the Zambian border killed 150 people after crashing into a truck