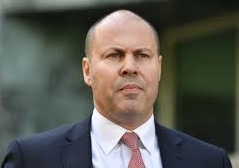 War of words between Beijing and Canberra is escalating as Australian Treasurer Josh Frydenberg Wednesday dismissed China's anger on Home Affairs Minister Peter Dutton as unwanted and unjustified.
A spokesperson of Chinese Embassy in Canberra had accused Mr Dutton being a mouthpiece for the United States criticism of China's handling of the COVID-19 pandemic after Mr Dutton's call for more transparency about the origins of the coronavirus.
Spokesperson was surprised to note that in recent days, Mr. Dutton showed a sudden interest in China's "transparency" on COVID-19.
"Obviously he must have received some instructions from Washington requiring him to cooperate with the US in its propaganda war against China", spokesperson remarked.
Talking to ABC News Breakfast, Frydenberg said that embassy spokesman's comments were "unwanted and unjustified".
He made it clear that senior government ministers would continue to speak up about issues in Australia's national interest.
Prime Minister Scott Morrison and Foreign Minister Marise Payne has also drawn Chinese ire after they pushed for an independent review into the origins of coronavirus.
Frydenberg was optimistic that occasional political and strategic disagreements would have no effects on commercial relationship with China, the largest trading partner of Australia.
Without naming anyone, Chinese Embassy spokesperson blamed that these days, certain Australian politicians are keen to parrot what those Americans have asserted and simply follow them in staging political attacks on China.
"This fully exposes the former's ignorance and bigotry as well as their lack of independence in serving orders from others, which is pitiful, spokesperson said adding recently some people in the US including high level officials have been spreading anti-China "information virus",