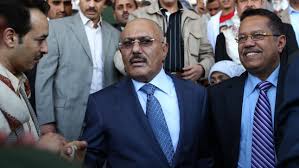 In a major setback to Yemen's Houthis, former President Ali Abdullah Saleh has said he is open to talks with a Saudi-led coalition fighting Houthi rebels drawing a denunciation from the rebels who termed it "a coup" against their fragile alliance with the ousted president, Aljazeera reported.
Saleh made the comments on Saturday, as infighting between forces loyal to him and Houthi rebels continued for a fourth day. In recent days, Sanaa has been shaken by escalating violence between Saleh's supporters and Houthi rebels.
At least 40 people have reportedly been killed since Wednesday, with residents now fearing a new front in an already devastating war.
On Saturday, Sanaa residents told Al Jazeera that armed men from the GPC attacked Houthi-held government institutions, as clashes continued.
"I call on our brothers in neighbouring countries … to stop their aggression and lift the blockade … and we will turn the page," Saleh said in a televised speech on Saturday.
"We vow to our brothers and neighbours that, after a ceasefire is in place and the blockade is lifted … we will hold dialogue directly through the legitimate authority represented by our parliament," added Saleh.
A Houthi spokesman was quick to denounce Saleh's comments, accusing the former president of staging a "coup".
"Saleh's speech is a coup against our alliance and partnership … and exposed the deception of those who claim to stand against aggression," the spokesman said in a statement, carried by the rebels' Al Masirah TV.
Also responding to Saleh's speech, Houthi leader Abdel-Malek al-Houthi stressed the need for dialogue and called on the former president to "be more mature".
However, in a statement, Saleh's General People's Congress (GPC) ordered their supporters to "defend their homeland, their revolution, and their unity".
Saudi response
In a statement on Saturday, the Saudi-led coalition praised Saleh for "taking the lead" in the conflict.
"The decision by GPC to take the lead and their choice to side with their people will free Yemen of … militias loyal to Iran," the statement carried by the official Saudi Press Agency said.