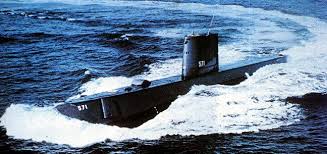 With evolving strategic environment, India launched ambitious project to build six nuclear-powered attack submarines that is expected to boost the Indian Navy's overall strike capabilities.
Indian Navy Chief Admiral Sunil Lanba while confirming the launch of the mega project, also gave a clear indication that Indian Navy was ready to play a bigger role including under the proposed quadrilateral coalition among India, the US, Australia and Japan, Economic Times quoted him as saying.
The process has started. I will not comment further," Admiral Lanba told the media on the eve of Navy Day.
The revelation from Indian Naval Chief came at a time when Russia announced that joint venture contract for production of 200 Kamov 226T helicopters for the Indian armed forces is expected to be signed in the first quarter of 2018.
Under the Indo-Russia joint venture to produce 200 Kamov 226T helicopters, 60 of the choppers will be supplied to India in fly-away condition, while 140 will be manufactured in India under a USD 1 billion deal inked in 2015.
On the evolving security scenario in the maritime sphere around India, he said eight ships of Chinese PLA Navy were deployed in the Indian Ocean region at any point of time and that there was a unique situation in August when the numbers had gone up to 14.
Additional deployment of Chinese warships and submarines were reported during the over two month-long standoff between Indian and Chinese armies in Dokalam.
Referring to the bilateral naval agreement between India and Singapore providing for deeper cooperation including logistics support, he said similar agreements are being negotiated with a number of countries.
Talking about modernisation of the Navy, he said 34 ships are under construction and projects worth Rs 40,000 crore have been identified for participation of the private shipyards.
He said steps have been taken to bolster the aviation arm of the Navy by induction of new fighters, surveillance aircraft and ship-borne helicopters.
He claimed that the Indian Navy is at the threshold of joining a select league of navies capable of providing Submarine Search and Rescue in the Indian Ocean Region with two Deep Submergence Rescue Vessel Systems scheduled for induction next year.