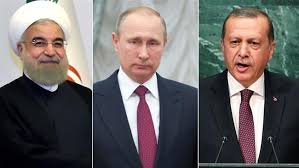 Russian President Vladimir Putin is set to host his Iranian and Turkish counterparts at his official residence in the coastal city of Sochi to discuss the Syrian conflict, Aljazeera reported.
The event on Wednesday will be preceded by a meeting on Sunday in Turkey's resort city of Antalya between the three countries' foreign ministers.
According to Putin's spokesman, Dmitry Peskov, the summit will include only these three countries, because they are the "guarantors of the political settlement and stability and security that we see now in Syria".
The trio brokered a ceasefire in Syria in December 2016 and held peace talks in Kazakhstan's capital of Astana in parallel to UN-backed negotiations in Geneva.
The agenda
Turkey's presidential spokesman, Ibrahim Kalin, said that the three leaders would discuss progress in reducing the violence in Syria and ensuring humanitarian aid goes to those in need.
Describing Iran, Russia and Turkey as the three "guarantor" countries, he said the talks would look at what they could do towards a lasting political solution in Syria.
According to Russia's Tass news agency, the summit will pay special attention to the situation in Idlib, a de-escalation zone where the three states have been deploying observers.