After a series of veiled attacks against growing Chinese build-up in the region, Australia is all set to sign "enhanced partnership plan" with NATO at a time when US authorities were hinting to deploy medium range missiles in northern Australia.
NATO Secretary-General Jens Stoltenberg and Prime Minister Scott Morrison will review the starategic partnership during a meeting on Wednesday in Sydney before signing the new "partnership plan".
Yet no details available about the "enhanced partnership plan". Australia has a long-standing startagic alliance with NATO and currently contributing around 300 personnel to the NATO-led Resolute Support Mission in Afghanistan, as well as funding for Afghan defence and security forces.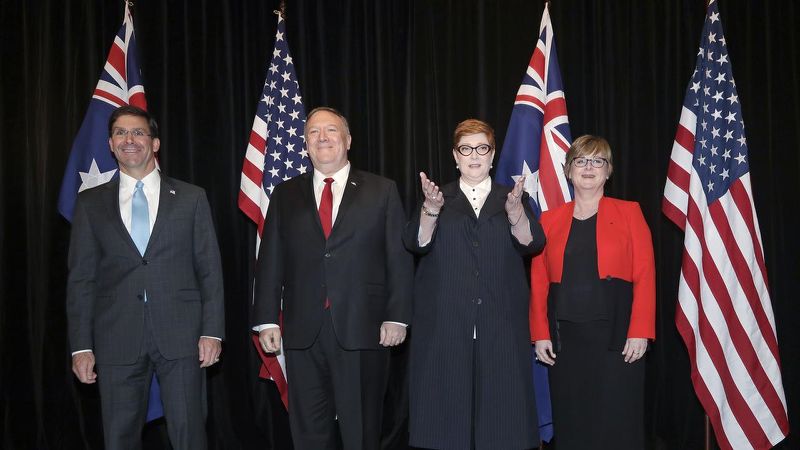 NATO Chief is arriving Australia two days after US Secretary of State Mike Pompeo and Secretary of Defence Mark Esper hold annual consultations with their Australian counterparts and both sides used the occasion to target China over its "role' in the region which draw a quick rebuke from Chinese embassy in Canberra.
Jens Soltenberg headed for Australia on Tuesday afternoon after 2 days visit to New Zealand where he spent busy time since Monday with stops in Christchurch and Wellington.
In Christchurch, Mr. Stoltenberg met with mayor Lianne Dalziel and first responders involved in stopping the March 2019 mosque attacks.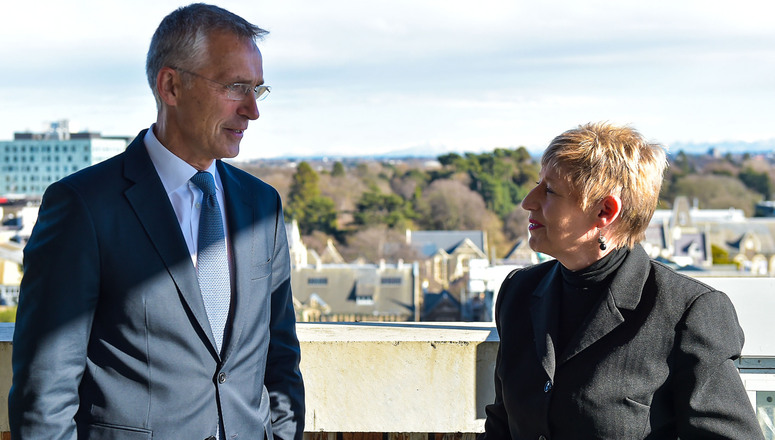 He then visited the Al Noor mosque, where he laid a floral tribute in memory of the victims, and met with members of the Muslim community.
The Secretary General expressed his solidarity and deepest condolences, recalling his own experience as Prime Minister of Norway during the terrorist attack in 2011.
On Tuesday, Mr. Stoltenberg met Prime Minister Jacinda Ardern, Deputy Prime Minister and Foreign Minister Winston Peters, Defence Minister Ron Mark, and other senior officials.
Foreign Minister Marise Payne will host the visiting NATO Secretary General on Thursday for official talks to discuss Australia-NATO political and strategic engagements. They will also discuss Enhanced Opportunity Partnership, including further developing interoperability of armed forces.
He will also meet with Australian defence minister Linda Reynolds.
During the visit, Mr Stoltenberg will visit defence facilities and participate in events hosted by the Lowy Institute in Sydney on Wednesday and the Institute for Regional Security at the Australian National University in Canberra on Thursday.
The NATO boss is expected to discuss with Australian officials the growing role and influence of Russia and China, the continuing threat of terrorism and the complex issue of cyber conflict.
In New Zealand, Stoltenberg spoke to students and academics at the Centre for Strategic Studies at Victoria University of Wellington.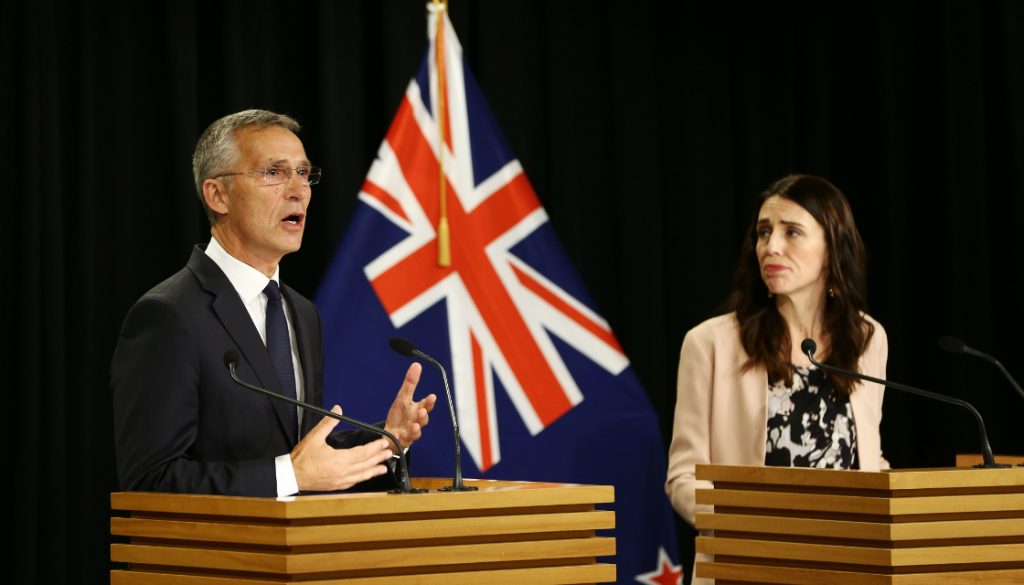 The Secretary General explained that today's security challenges require joint efforts and deep partnerships to overcome.
He pointed to the rise of great power competition, the threat of international terrorism, and challenges emanating from cyberspace as three areas where NATO and New Zealand are stronger and safer when they respond together.
He also raised concerns about Russia and China saying more assertive Russia was putting the global rules-based order under pressure.
"While China presents a very different set of challenges than Russia, its rise also has implications for the global rules-based order and for our security," he said.
"We see this in the South China Sea, in cyberspace, and in Chinese investments in critical infrastructure in many countries, including in Europe. So, therefore, we need to better understand the challenges and the opportunities the rise of China presents", he maintained.