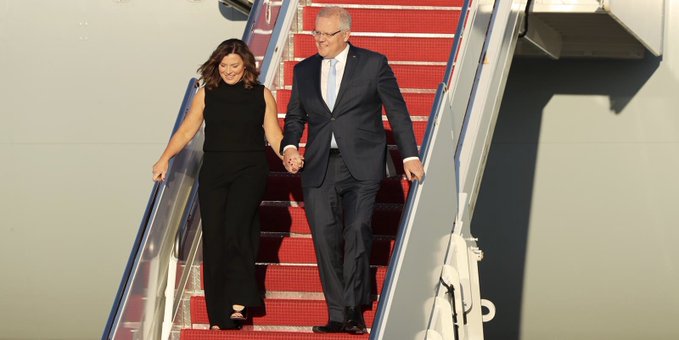 Prime Minister Scott Morrison at the invitation of President Trump has arrived in Maryland, USA on State visit to the United States of America.
Prime Minister with wife jenny is visiting Washington D.C, Chicago, Ohio and New York from 19-27 September.
The highlight of the official visit to USA is a State Dinner at the White House on Friday night.
"Wonderful to be here in the land of the free and home of the brave", PM Morrison said in his brief statement upon arrival.
Declaring Australia-US ties as the best relationships of any two nations anywhere in the world, he said Americans know that they do not have a more sure and steadfast friend than Australia.
Mr Morrison will be the second world leader to be hosted by US President Donald Trump after French President Emmanuel Macron last year.
"I look forward to meeting again with President Trump and members of his Cabinet, including Vice President Pence, Secretary of State Pompeo and Secretary of Defenase Esper to discuss how we can further strengthen our alliance and already close partnership", PM Morrison said in a statement issued on Monday.
"There is no deeper friendship than that which exists between Australia and the United States", he remarked adding the visit will be a valuable opportunity to further strengthen our security and economic partnership.
Prime Minister will avail the opportunity to visit the NASA headquarters during the visit as he welcomes greater US-Australia cooperation on space, and other cutting-edge science and technology initiatives.
He will also meet young Australian tech entrepreneurs working in the Midwest.
The United States is Australia's largest economic partner and investment between the two nations is worth more than $1.2 trillion.
Mr Morrison will attend the 74th regular Session of the General Assembly at the United Nations.
"I will deliver Australia's national statement and advance Australia's interests in the protection of the oceans and preventing terrorist use of the internet", he said.
While in New York, he will also meet senior business representatives to further enhance the economic partnership between Australia and the United States.