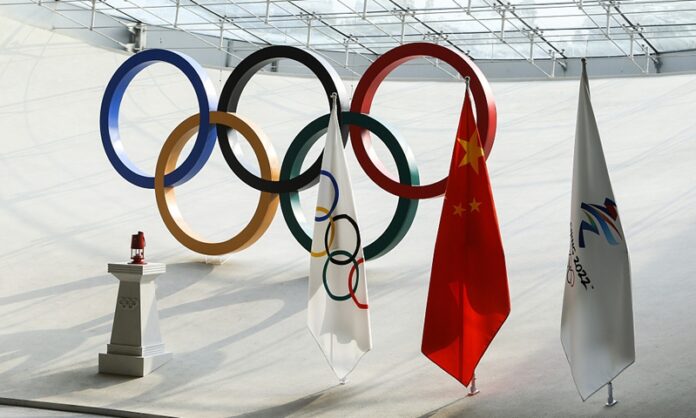 Chinese Embassy in Australia has slammed the allegation of so-called"cyber security" issues of the Beijing 2022 Winter Olympic Games terming it as nothing but a rumor.
Commenting on the reports that Australian athletes were advised to leave personal mobile phones and laptops at home amid concerns over the leak of personal information, the spokesperson of the Chinese Embassy Wednesday said in a statement that to provide better information services to participants of the Beijing Winter Olympic and Paralympic Games, China has launched a mobile application "My 2022" which is similar to that used in the Tokyo Olympics.
"My 2022" is a multi-functional app that provides various information services on weather, catering, accommodation, traffic, event news and medal standings to the accredited people of Beijing 2022. "The app also serves for epidemic prevention and control as well ", the statement read.

Spokesperson emphasised that all actions of Beijing Organising Committee for Olympic Games strictly abide by China's laws and relevant regulations.
According to the second edition of the Playbook, all accredited overseas Olympic participants must submit their health status daily through the health monitoring system for 14 days before entry into China.
"It is not compulsory to install "My 2022" on cell phones, as accredited personnel can log on to the health monitoring system on the web page instead. Data collected is clearly stated in the user agreement and privacy policy of the app and has been reviewed by the International Olympic Committee", spokesperson clarified.
"My 2022" will inquire about the user's consent to access phone features in pop-up windows when it is opened for the first time.
"The app won't access related phone features if not in use, and users can turn off the permissions at any time in the system settings without affecting the app operation", spokesperson added.
Also, "My 2022" has passed the examination of overseas mobile application markets such as Google, Apple and Samsung. We have taken measures such as personal information encryption in the app to ensure privacy security.
As the Beijing Olympic and Paralympic Winter Games will open soon, spokesperson urged that China is doing its best to make preparations for the final stage.
"We are confident that China will present a streamlined, safe and splendid Games to the world", statement concluded.
The International Olympic Committee has also confirmed that that China's My 2022 smartphone app, meant for use by all athletes at the upcoming Beijing Winter Games, has been independently assessed by two cybersecurity testing organizations and found to have "no critical vulnerabilities.