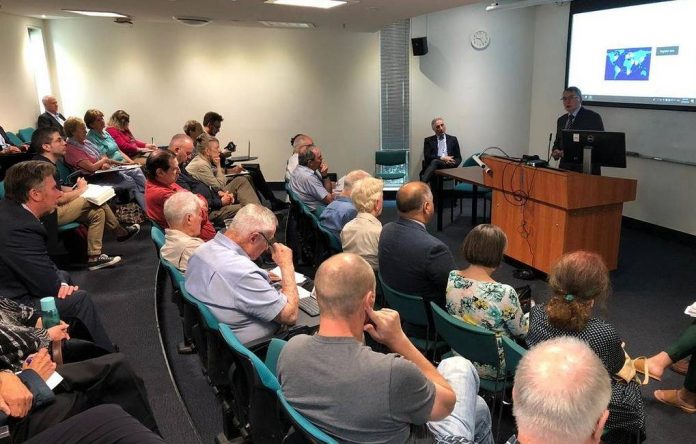 Canberra- Ambassador of the Russian Federation to Australia, Alexei Pavlovsky Friday said that efforts to create a unipolar model have failed and the transformation of the world order has become irreversible.
He was addressing a symposium, Australian National University on "Role of Russia in the modern world" to mark the 90th birthday of former Prime Minister and Foreign Minister Yevgeny Primakov.
The forum discussed in detail the historical movement of the global system of international relations towards multipolarity, the foundations of which were laid by Academician Primakov, Itar Tass reported.
Ambassador Alexei Pavlovsky spoke about Russian policy in the Asia-Pacific region and the Middle East, as well as about Eurasian integration and the expansion of the EAEU's relations with international partners.
The ambassador explained that today's Russia in its policy adheres to the principles laid down in the basis of the doctrine proposed by Yevgeny Primakov, among which are the priority of national interests and the multifaceted nature of the country's foreign policy.
"Today it is clear that efforts to create a unipolar model have failed and the transformation of the world order has become irreversible, Ambassador Pavlovsky told the audience adding that the vast majority of members of the international community reject the arrogant neocolonial policy, which is again and again used to empower some countries with the right to impose their will on others".
He said most countries does not want to be hostages of other people's geopolitical calculations and is set to pursue a nationally oriented domestic and foreign policy.
"Russia, as one of the custodians of the existing world order, adheres to a positive agenda. We stand for strict observance of international law and the strengthening of mutual trust and respect", Russian Ambassador remarked.
Mr Pavlovsky emphasized for building interstate relations and communications on a fair and democratic basis with an emphasis on the UN Charter.
"Our country is aimed at strengthening security and stability, and combating international terrorism and other threats. and challenges", said the Russian ambassador.
The organizers of the symposium, in turn, noted that as a politician and public figure, Yevgeny Primakov enjoyed authority around the world and his 90th anniversary provides an excellent opportunity to once again evaluate the politician's legacy and reflect on current trends and developments in Russian foreign policy in Asia and outside.