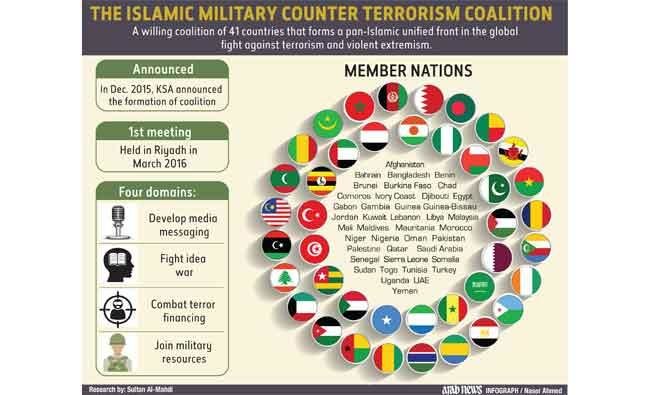 Top defense officials from the Islamic Military Counter Terrorism Coalition (IMCTC) agreed to boost its military capabilities to dismantle terrorist organizations.
At a first ever high-profile conference in Riyadh, they also agreed to step up cooperation to cut off financial support to terror groups, and stressed the importance of empowering the media and investing in digital platforms to combat extremist ideology and propaganda.
"stressed importance of the military role in combating terrorism, enhancing security and peace in the Coalition member countries, and contributing to regional and international security and peace", Arab News quoted from the Joint declaration issued after the meeting.
The declaration said: "Terrorism has become deadlier than ever before, particularly in our Islamic world, which suffers from the crimes of terrorism, inflicting heavy losses in property and lives, and has shattered the dreams of broad sectors of societies trying to live in peace and tranquility." The defense ministers reaffirmed their determination "to work with every possible means to confront extremism and terrorism."
They "renewed their determination to address terrorism through education and knowledge, to highlight correct Islamic concepts, and to establish the truth of moderate Islam, which is consistent with human nature and common values." The defense ministers agreed to appoint IMCTC officials, including a secretary-general, while member countries will be entrusted with nominating their delegates.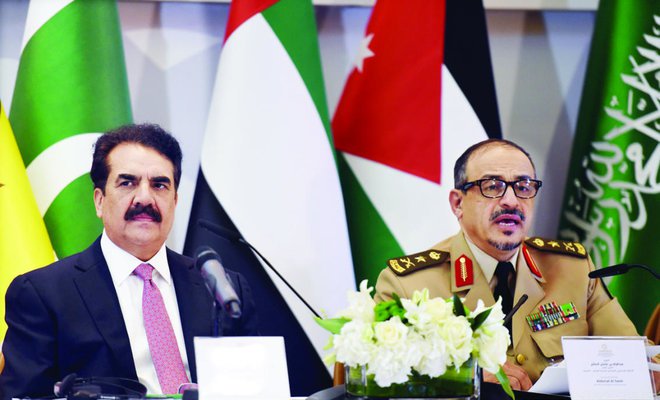 The council will meet annually and whenever necessary to follow up on the strategies, policies, plans and programs to achieve the IMCTC's objectives.
The ministers emphasized the importance of draining the sources of terrorist financing, and cutting off any financial support for terror operations and activities.
"This can be achieved by coordinating efforts to combat terrorist funding and shutting down the flow permanently," said the declaration, calling for more action to improve compliance with international standards.
Gen. Raheel Sharif, military commander of the IMCTC, said: "The greatest challenge to peace and stability in the 21st century, especially in the Islamic world, is to address the most serious phenomenon in the world: Terrorism."
He added that "terrorist organizations have distorted the concept of jihad in Islam" and threaten "world peace in order to achieve their destructive goals."
Sharif said: "Our aim today is to unite and work together in order to beat and crush terrorism and its extremist ideology."