The Organisation for Islamic Cooperation (OIC), an amalgam of 57 Islamic nations has condemned the Trump administration position on occupied Jerusalem and advised its 57 member states should sever ties with any state that transfers its embassy to Jerusalem or recognises Israel's annexation of East Jerusalem.
Just ahead of US President Donald Trump expected key decision this week over Jerusalem's status, OIC held the extraordinary meeting at the headquarters of the General Secretariat of OIC in Jeddah, Saudi Arabia on Monday where the largest Islamic body expressed its concern at attempts to change the historical and legal status of the occupied City of Al-Quds Al-Sharif and to transfer diplomatic missions thereto.
Condemning the statements, positions and resolutions aimed at changing the status of the occupied city of Al-Quds Al-Sharif (Jeusalem), body also condemn the illegal measures against the city of Al-Quds aimed at imposing Israeli control over it, which will contribute to changing the historical and legal status of the Holy City, its demographic structure and its Arab-Islamic character.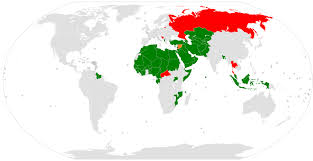 "Muslim Ummah and the OIC Member States will not stand idly by and will not accept any hostile action that detracts from the status of the city", it warned.
OIC demanded that all States, including the US should not recognize any changes in the borders of 4 July 1967 and calls upon all Member States to severe ties with any party, official or unofficial, that recognizes Israel's annexation of the sacred city or transfers its diplomatic mission in holy city.
The OIC also warned that recognising Jerusalem or establishing any diplomatic mission in the disputed city would be seen as a "blatant attack on the Arab and Islamic nations".
Islamic body said that if the United States takes the step of recognising Jerusalem as the so-called capital of Israel, we unanimously recommend holding a meeting of the council of foreign ministers followed by an Islamic summit as soon as possible.