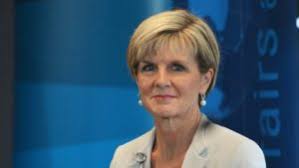 Foreign Minister Julie Bishop Thursday said that Australia has no intention of moving its Tel Aviv embassy despite the US officially recognising Jerusalem as the capital of Israel.
Foreign Minister Julie Bishop insists Australia won't be following the US to Jerusalem.
"We will not be taking steps to move our embassy in Israel, it will continue to offer diplomatic assistance in Tel Aviv," she told reporters in Canberra. Australia was committed to a two-state solution in the hotly-disputed region.
"Whereby the Israeli people and the Palestinian people can live in peace side-by-side within internationally-recognised boundaries remains our foreign policy objective," Ms Bishop said.
Ms Bishop admitted she was concerned by any action that could inflame tensions.
"However, the Australian government remains committed and optimistic that the way to achieve enduring peace between the Israelis and Palestinians is a negotiated two-state solution."
Opposition foreign affairs spokeswoman Penny Wong backed that position and labelled the US move as unhelpful to the peace process.
Greens senator Janet Rice said it was an extraordinarily provocative move by the US.
"For Trump to be taking this action is just going to be increasing hostilities," she told reporters.
Meanwhile The Victorian government says Tel Aviv is the best place for the state's business office in Israel.
Premier Daniel Andrews is currently in Tel Aviv, where he will officially open the Victorian government office because "from a tech point of view, medical research, investment (and) commerce, Tel Aviv really is the capital," he told the Nine Network.