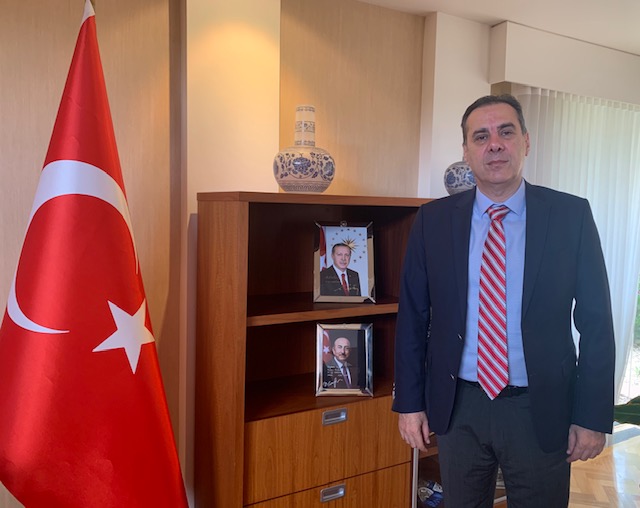 Canberra- Resilient Korhan Karakoç, Turkey's ambassador to Australia sees no impediments in enhancing the Turkey-Australia ties despite some policy differences as both sides are gearing up for first-ever political dialogue at deputy minister level this year.
In an exclusive interview with Vibe Media on Thursday, Ambassador Korhan Karakoç rejoices that bilateral affairs between Turkey and Australia has always followed a positive trend.
"Turkey considers Australia as one of her strongest partners in the Asia-Pacific Region. I believe that the already existing friendly relations between our two countries which are based on strong historical bonds and common values will further improve in the period ahead", he said.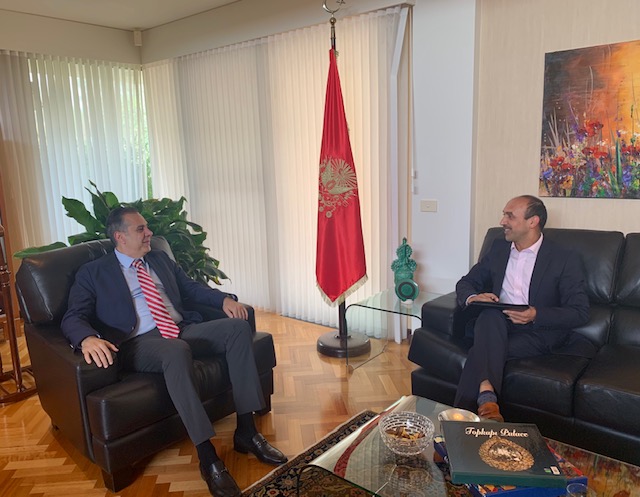 As both nations have an efficient cooperation at UN, G20 and MIKTA, Turkish Ambassador termed Australia a strong ally for Turkey as a global partner of NATO and a principle partner for cooperation in countering terrorism and transnational threats.
"We are grateful to the Australian authorities for their support in the fight against the terrorist organizations such as Daesh, PKK, YPG, FETO and all others", he remarked.
Canberra is to host the first ever political dialogue between Turkey and Australia this year to bring the two friendly nations further closer. Mr Mevlüt Çavuşoğlu, Minister of Foreign Affairs of Turkey was expected in Canberra in the middle of this year, but some domestic engagements compelled him to cancel the visit.
Mr. Karakoç assess the Gallipoli Spirit a bridge between Turks and Aussies which connects them through history.
"Turks and the Australians inherited the Gallipoli Spirit from their grandparents", he said adding this spirit is an inspiration for peace and friendship between our countries, which was reinforced with the message of compassion and comfort of Atatürk, founder of the Turkish Republic, to the families of the ANZACs who could not return to their homes from Gallipoli.
Gallipoli Spirit is a bridge between Turks and Aussies: Turkish Ambassador
He commended that the relationship which has evolved between Turkey and Australia from 1915 to the present day is fundamental and unique.
"Through this experience we have been able to develop a mutual admiration, as we have to come to know each other better. Our close friendship will remain steadfast, as we partner around the globe to maintain peace and security", Mr. Karakoç added.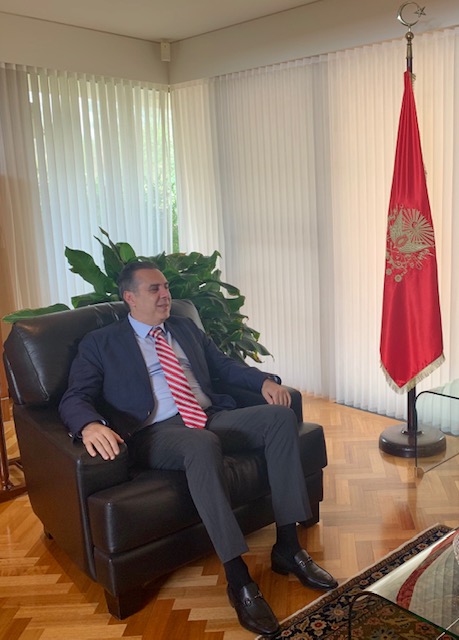 Australia is hosting more than 100 thousand strong Turkish community who actively take part in shaping the future of Australia and embracing and promoting Australia's shared values.
"The existence of a vibrant and productive Turkish community in Australia adds to our relations a robust human dimension that is conducive to further strengthening interaction between Turkey and Australia", Mr. Karakoç emphasized.
Both Turkey and Australia are member of G20, but their bilateral trade does not reflect their deep friendly relations.
"It is also true that current trade figures do not reflect the real potential. Our bilateral trade volume was 1,7 billion US Dollars in 2018. As two G20 economies, I am confident that we can and should increase these figures as diversifying trade relations is our priority", Ambassador Karakoç said.
Prime Minister Morrison has underlined that Australia will turn its economic focus to Europe in order to contain the consequences of US-China trade wars and Turkish Ambassador maintained that Turkey was ready to fully cooperate in deepening trade relations with Australia.
"There is an untapped potential of cooperation between our countries and further trade and investment related ties with Turkey will enable Australia to tap into the opportunities not only in Turkey but also in our region", Ambassador suggested.
Turkey jumped to 33rd position among 190 economies in the World Bank's Ease of Doing Business ranking this year: Mr. Karakoç
Over the past 17 years, the Turkish economy has posted record growth and climbed from 18th place to 13th globally with the size of economy has increased from USD 236 billion in 2002 to USD 784 billion in 2018.
While inviting Australian public and private sectors to invest in Turkey, Mr. Karakoç underscored that Turkey is a natural bridge between both the East-West and the North-South axes, thus creating an efficient and cost-effective hub to major markets.
He said Turkey offers excellent opportunities with its growing, young, and dynamic population with overall labour force of about 32.7 million people, which makes the country the 3rd largest labour force in Europe.
Turkey has jumped 36 places to move up to 33rd position among 190 economies in the World Bank's Ease of Doing Business ranking.
"Turkey's investment legislation is simple and complies with international standards while offering level playing field for all investors", Mr. Karakoç said stressing that Turkish Government has always prioritized reforms for a qualified workforce, innovative production, sustainable growth, ​a sustainable environment, and international cooperation for development. ​
Speaking about Turkey's recent operation in Syria bordering area, Ambassador Korhan Karakoç made it clear that Turkey respects the sovereignty and territorial integrity of Syria has pursued a policy aimed at preserving Syria's territorial integrity / unity ending the bloodshed and resolving the conflict through peaceful political transition that would address the legitimate demands of the Syrian people.
"Due to conflict in Syria, our national security has been under the direct and imminent threat of terrorist organizations in the east of Euphrates in Syria, among which Daesh and PKK/YPG/PYD come at the forefront", he elaborated reiterating that Turkey's resolve to fight against these terrorist organizations is firm.
Turkey launched Operation Peace Spring on October 9 to clear north-eastern Syria east of the Euphrates River of terrorists and create a safe zone along the border to pave the way for the voluntary return of Syrian refugees.
"The Operation has been carried out with success. Terror elements were neutralized. Nearly a 145-kilometer area between Tal Abyad and Ras al-Ayn has been cleared of terrorist organizations and elements to a depth of 30 kilometres", Ambassador Korhan shared underlining that operation was not against Kurds, Syrian Kurds, but only against terrorist groups.
It is needless to say that Turkey's counter-terror operations do not target civilians. Our main target in Syria is terrorist organizations such as Daesh and YPG/PYD which is the PKK's Syrian offshoot. As everyone know, the PKK has been listed as a terrorist organization by Australia, the U.S. and the European Union.
He said the magnitude of the area that we have cleared of terrorists is important in terms of both our country's border security and of the stability and security of the people living on the Syrian side. Yet, obviously, we have many things to do.
"Operation Peace Spring has thwarted the aims to establish a terror corridor", Ambassador Karakoç
With this Operation, Turkey will provide the resettlement of Syrian refugees in northeast Syria. The number of Syrians to be resettled will be able to increase to millions. These people will live in peace and security.
He stressed that the fight against terror is not a point process but a continuing process.
"Operation Peace Spring has largely thwarted the aims to establish a terror corridor, even a terror state in the northeast of Syria, particularly in the north of Syria, right to the south of our border", Mr Karakoç said.
Turkey is hosting more than 3.5 million Syrians including 350.000 Syrian Kurds.
Turkish Ambassador shared that after having successfully concluded the previous operations, more than 360.000 Syrians returned to their homes. The total amount that the Turkish Government has allocated so far for the humanitarian aspect of the crisis exceeded 35 billion USD.
"The Syrians want to go home. They have suffered more than enough. We have taken the initiative to help create the peaceful conditions that are necessary for the homecoming of millions of refugees", he concluded.