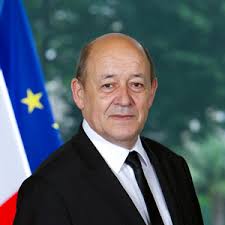 Foreign Minister of France Mr. Jean-Yves Le Drian has arrived Australia today on 2 days visit with a busy schedule to solidify the close strategic partnership between France and Australia.
"Jean-Yves Le Drian will meet with his counterpart, Marise Payne, to discuss major international issues as well as the challenges facing our countries in the Indo-Pacific region", French foreign ministry said in a statement.
The ministers will review bilateral relations in the context of the French-Australian AFiniti initiative launched in May 2018 during President Macron's visit to Australia.
In Melbourne, the French foreign minister will take part in the second international conference on the fight against terrorist financing "No Money For Terror," the first edition of which took place in Paris last year.
In Adelaide. Jean-Yves Le Drian and Simon Birmingham, the Australian Minister for Trade, Tourism and Investment, will co-chair the first session of the bilateral dialogue on trade and investment.
This dialogue is designed to strengthen economic ties between the two countries, currently characterized by the presence of 600 French companies in Australia employing 70,000 people, and to consider ways to encourage trade and investment flows.
The minister will meet with Daniel Andrews, Premier of Victoria, as well as Steven Marshall, Premier of South Australia, to discuss the French economic presence and prospects for university cooperation in these two states.
At the University of Adelaide, he will attend a round table on academic and scientific cooperation that will include the university's presidents and professors.
Also, during his visit, the minister will meet with industrial leaders and contractors connected with the Future Submarine Program.