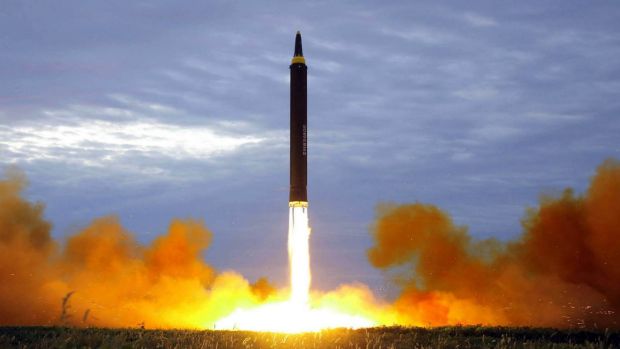 North Korea launched an intercontinental ballistic missile in the early hours of this morning, apparently from a mobile launcher near capital Pyongyang. It reached an altitude of 4,000 kilometres, flying for 50 minutes before splashing down about 1,000 kilometres away in the sea to Japan's west.
North Korea's latest ballistic missile went higher than ever, the US says, warning the rogue regime is well on track to be able to hit "everywhere in the world" with a nuclear strike. "It went higher, frankly, than any previous shots they have taken," US Defence Secretary James Mattis said this morning.
" It's a research and development effort on their part to continue building ballistic missiles that can threaten everywhere in the world, basically.
"The bottom line it's a continued effort to build a ballistic missile threat that endangers world peace."
US President Donald Trump was briefed while the missile was still in the air, and later told reporters the US would "take care of it".
"It is a situation that we will handle," he said.
The Pentagon said the missile did not pose a threat to the US, its territories or allies.
South Korean President Moon Jae-in raised concerns North Korea's perfection of an intercontinental ballistic missile would let regional security "spiral out of control" and make the US consider a pre-emptive strike against the North.
During a National Security Council meeting, Mr Moon said it would be important to prevent a situation where North Korea miscalculates and threatens the South with nuclear weapons or the US considers a pre-emptive strike to eliminate the threat.
Japan's Prime Minister Shinzo Abe earlier dragged his cabinet ministers out of bed for an emergency meeting, held around 3:30am (local time).
Mr Abe requested an emergency meeting of the United Nations Security Council, and said Japan would "not tolerate North Korea's reckless action".