Saad Al-Shareef, Ambassador of State of Qatar on Thursday presented to His Excellency Major General (Ret'd) Jioji Konusi Konrote, The President Of The Republic Of Fiji, his Letters of Credence as Ambassador Extraordinary and Plenipotentiary of The State Of Qatar to Fiji (with residence in Canberra).
The State of Qatar and the Republic of Fiji established formal diplomatic relations in 2010. Since then both nations have developed their friendly ties in various sectors.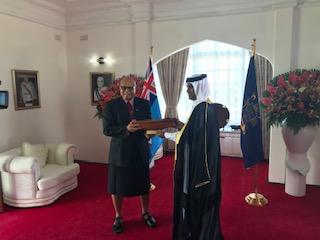 Ambassador Saad Al-Shareef on this occasion conveyed the greetings of the Amir of Qatar Sheikh Tamim bin Hamad Al-Thani to the President of the Republic of Fiji, said a statement from Embassy of Qatar in Canberra issued to Vibe Media.
President Jioji Konusi Konrote also entrusted the Ambassador to convey his warm greetings to the Amir of Qatar and his wishes for the Qatari people more prosperity and progress.
President Jioji Konusi Konrote expressed his believed that the friendly relations and cooperation between the State of Qatar and Republic Of Fiji would further strengthen during Ambassador Saad Al-Shareef tenure.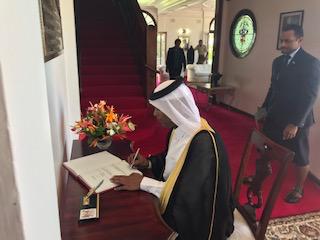 They also discussed bilateral relations between the two countries and means to boost these relations.
Later Ambassador Saad Al-Shareef recorded his remarks in guests book.