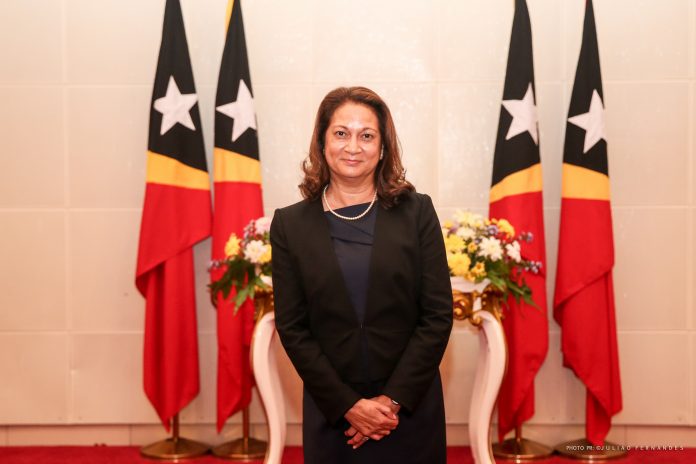 Timor-Leste's new Ambassador to Australia, Ms Inês Maria De Almeida, on Wednesday presented her official credentials to Australia's Governor-General, David Hurley in a ceremony at Government House in Canberra.
Ambassador Almeida said she looks forward to strengthening relations between the two countries and build on some of the successes of past Timorese diplomatic missions to Australia, including with the very successful Seasons Workers Program (SWP).
In 2019 over 1,700 Timorese took part in Australia's labour mobility programs contributing through remittances and skills upon returning, to Timor-Leste's development.
"Australia is Timor-Leste's largest development and security partner and one of our closest neighbours. This new phase in our relationship gives us the opportunity to focus on the things that bring our governments and people closer together as friends and as neighbours."
"We have strong historical relations with Australia, and I look forward to exploring avenues for investments, tourism, and other business opportunities in Timor-Leste. We also have a mutually beneficial veterans program dealing with the very real issue of post-traumatic stress disorder (PTSD)."
"Another key priority includes maintaining regular dialogue with various stakeholders, including with the Australian government, and strengthening the people-to-people relations between our two countries. I will also work on building stronger cooperation on regional security, and sustainable development assistance."
The new Ambassador paid special tribute to her predecessor H.E. Ambassador Abel Guterres who served as Timor-Leste's Ambassador to Australia from May 2010 until early 2020.
"Ambassador Guterres is a strong diplomat who ensured Timor-Leste kept close relations with the Australian Government, the business community, and the citizens of this great nation. I thank him for his service and know he will continue to be an important diplomatic asset for Timor-Leste."
Prime Minister of Australia, Scott Morison, the Leader of the Opposition, Mr. Anthony Albanese, and several parliamentarians visited Timor-Leste in 2019.
Ambassador Almeida also welcomed the Australian Government's recent Pacific Step-up, including through the Australian Infrastructure Financing Facility for the Pacific, and the various collaborations with the United States and Japan.
Ambassador Inês Maria De Almeida was born in Timor-Leste's capital, Dili but escaped to Australia as a refugee with family relatives in 1975.
She was a strong defender of Timor-Leste's self-determination working with the Timor-Leste's Cultural Centre (CCTL).
In 1992, she and other Timorese in Australia founded the East Timor Relief Association (ETRA) in Sydney, a non-governmental organisation advocating for national liberation through radio, a bulletin, and contacts with solidarity groups to get logistic and financial support for Timor-Leste.