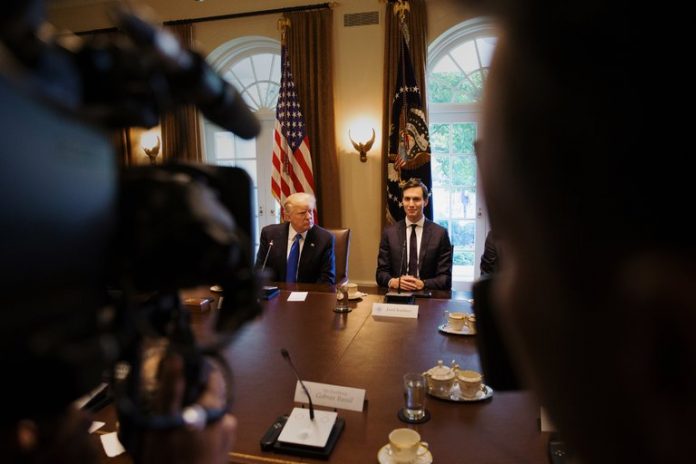 President Trump with Jared Kushner, his son-in-law and a senior adviser, at the White House in July. Mr. Kushner is leading efforts to broker a Middle East peace deal. Credit Tom Brenner/The New York Times
WASHINGTON — President Trump and his advisers have begun developing their own concrete blueprint to end the decades-old conflict between Israel and the Palestinians, a plan intended to go beyond previous frameworks offered by the American government in pursuit of what the president calls "the ultimate deal."
After 10 months of educating themselves on the complexities of the world's most intractable dispute, White House officials said, Mr. Trump's team of relative newcomers to Middle East peacemaking has moved into a new phase of its venture in hopes of transforming what it has learned into tangible steps to end a stalemate that has frustrated even presidents with more experience in the region.
The prospects for peace are caught up in a web of other issues consuming the region, as demonstrated in recent days by Saudi Arabia's growing confrontation with Iranian-backed Hezbollah in Lebanon. Israel is likewise worried about Hezbollah as well as efforts by Iran to establish a land corridor across southern Syria. If a war with Hezbollah broke out, it could scuttle any initiative with the Palestinians.
Nonetheless, Mr. Trump's team has collected "non-papers" exploring various issues related to the Israeli-Palestinian conflict, and officials said they expected to address such perennial dividing points as the status of Jerusalem and settlements in the occupied West Bank. Although Mr. Trump has not committed to a Palestinian state, analysts said they anticipated that the plan will have to be built around the so-called two-state solution that has been the core of peacemaking efforts for years.
"We have spent a lot of time listening to and engaging with the Israelis, Palestinians and key regional leaders over the past few months to help reach an enduring peace deal," said Jason D. Greenblatt, the president's chief negotiator. "We are not going to put an artificial timeline on the development or presentation of any specific ideas and will also never impose a deal. Our goal is to facilitate, not dictate, a lasting peace agreement to improve the lives of Israelis and Palestinians and security across the region."
"There's nothing new under the sun when it comes to Middle East peace," said Philip Gordon, a White House Middle East coordinator under Mr. Obama. "When you get into these details, that's when you come up against the strong objections of the two sides. If they don't want it to be dead on arrival, they may wind up with vague principles, but as we've seen, even vague principles are beyond what the parties are willing to embrace."
Tamara Cofman Wittes, a State Department official under Mr. Obama, said both Israeli and Palestinian leaders "are heavily constrained" not only by their own governing coalitions but by suspicious and risk-averse publics. "It's hard even for willing political leaders to make major concessions under those circumstances," she said.
The core four-member team drafting the plan includes Mr. Kushner, Mr. Greenblatt, Dina H. Powell, a deputy national security adviser, and David M. Friedman, the ambassador to Israel. They are consulting with Donald Blome, the consul general in Jerusalem, and others from the State Department and National Security Council. Officials said the effort may take until early next year.
Mr. Trump and his team make no bones about being pro-Israel. The president has boasted of being Israel's "biggest friend" and Mr. Kushner, Mr. Greenblatt and Mr. Friedman are all Orthodox Jews with ties to Israel. But Ms. Powell is an Egyptian-born Coptic Christian and Mr. Kushner has developed strong ties with the Saudis and other Arabs and recently returned from a visit to Riyadh. Mr. Trump has met with Mr. Netanyahu and Mr. Abbas three times each.
The team has drawn praise from across the spectrum. "We do believe this is a historic opportunity, and we will spare no effort to support President Trump's investment in a better future," Husam Zomlot, the Palestinian Authority's envoy to Washington, said in an interview. During a trip to London this month, Mr. Netanyahu said, "They are trying to think out of the box."