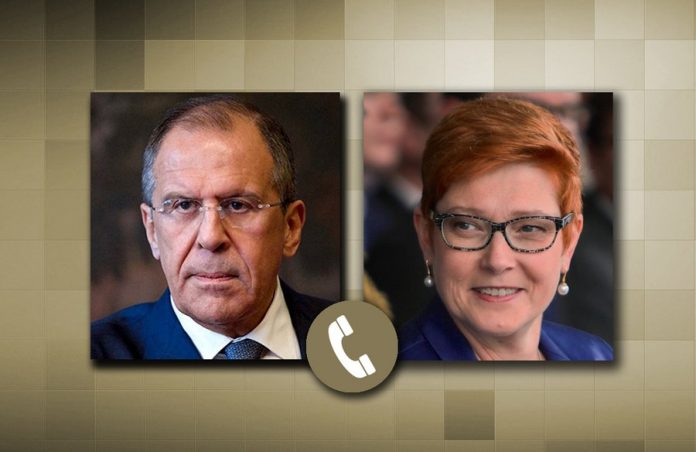 CANBERRA- Australia and Russia has shown their keen interest in developing political dialogue at foreign office top level, the subsequent increase in mutual trade and provision for its more balanced nature.
The issues were discussed in detail when Foreign Minister Marise Payne telephone her Russian counterpart Foreign Minister Sergey Lavrov, said a statement issued by the Embassy of Russian Federation in Canberra on Thursday.
The two foreign ministers discussed topical aspects of Russian-Australian relations with emphasis on the pragmatic development of their cooperation in the spheres of mutual interest.
They also touched the problems of international interaction in countering the spread of the novel coronavirus in the context of the results of the 73rd session of the World Health Assembly.
According to the statement, Foreign Minister Payne touched upon the continuing investigation of the МН17 catastrophe above Ukraine in July 2014.
Russian Foreign Minister informed her that Russia will disseminate in the UN a comprehensive document with the facts revealing the serious problems in the operation of the Netherlands-established Joint Investigative Team (JIT).
Mr Sergey Lavrov criticised the JITand said their activities fail to conform to the high standards set by UN Security Council Resolution 2166.
"Russian experts are ready to hold consultations with their Australian and Netherlands colleagues to clear up answers to the numerous questions put during their cooperation with the JIT", he maintained.
Both ministers also exchanged views on ways to invigorate interaction using the mechanism of East Asian summits and the councils of ASEAN defense ministers with their dialogue partners (ADMM plus), including the issues of combatting infectious diseases and broader cooperation in the field of military medicine.
The ministers agreed to intensify consultations on security issues in the Asian-Pacific Region.